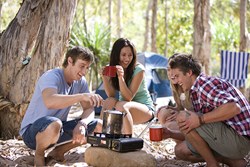 (PRWEB UK) 1 August 2013
For camping enthusiasts, Australia is the Mecca. With vast areas of land totally uninterrupted by buildings, noise pollution, air pollution or crowds of people, one can really connect with nature and travel back in time to a period before mobile phones, cars, offices and the Internet. Instead of the beep of a new Facebook alert, enjoy the wind rustling through the trees, the chirps of birds and the gloriously bright sun wakes the planet, and the sizzling of the shrimp on the Barbie – well, it is Australia after all.
For people who ever wished the life of Crocodile Dundee it is now possible to give it a crack. Although the fantasy of wrestling crocs or catching rattlers like Steve Irwin may be entertaining, the reality is it may be slightly nerve-racking coming across a venomous spider outside the tent one evening.
But if camping in Australia sound a bit dangerous, forego the canvas tent and instead camp in style – in a campervan complete with air conditioning, bathroom, kitchen, TV and DVD player. It may somewhat ruin the picturesque setting of shedding all of the modern conveniences, but it will be easier to be able to explore the country at own pace, and not worry about a restless night because of the heat.
OzAdventures rents out the motor homes and they can be parked at night in either a motorhome park or a secluded bush retreat – simply put the handbrake on, let the steps out and soak up all the nature, and with a van comprising two double beds available for only £69 a day, it is possible to get a whole lot of travelling and soaking done. It may also be preferable to look at the great offers on Greyhound bus passes that can be used to travel to camping sites around Australia.
OzAdventures also offers camping adventures, like the three-day Red Centre Explorer. Beginning with a visit to a camel farm, for a ride on the animals, the next stop is Ayers Rock (Uluru) to get up close and personal with the iconic formation on hiking through the Valley of the Winds. At sunrise the next morning have an unguided walk around Uluru's base and then have a cultural walk with an Aboriginal guide, and at night get a sleep in the Watarrka National Park (Kings Canyon). On the final day experience the wonderful canyon on a walk through the Lost City, Garden of Eden and North and South Walls.
Camping in Australia elevates the experience to a whole new level, so whether the preference is relaxation or activities, the guarantee is it will be a life time experience. Oz Adventures specialises in adventure holidays and group travel in Australia and New Zealand.