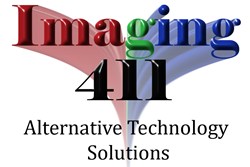 Astute was looking for a service partner that had both the scale of national coverage, and the flexibility and responsiveness a company such as Imaging 411 could provide,
Long Island, New York (PRWEB) August 02, 2013
Imaging 411, a national service provider, announced that they have signed an exclusive agreement to be the U.S. service provider for Networked Flash vendor, Astute Networks, based in San Diego CA. Imaging 411 will deliver both warranty and post warranty support for all Astute customers with a wide range of service offerings from next business day to the 4 hour response often needed in the data center.
Astute with over 13 years of solving IT performance problems has pioneered Networked Flash technology to overcome the application performance limitations common in demanding virtual and physical environments. Astute's customers report noticeable business improvements after deploying the Networked Flash ViSX. The solution is focused to deliver significant improvements in application performance by 10X or more. The platform delivers the best value approach based on price of entry, cost per user, and reduction in infrastructure costs at one-half to one-tenth the cost of traditional solutions.
"Astute was looking for a service partner that had both the scale of national coverage, and the flexibility and responsiveness a company such as Imaging 411 could provide," said Joe Paradiso, CEO of Imaging 411. "Our ability to deliver 24 x 7 coverage in key accounts was a factor as well as our broad experience with both the enterprise and the public sector, both critical to the success of the Astute family of storage appliances."
"We were delighted to find a partner with not only the national footprint Imaging 411 delivers, but a company both technically savvy to our needs as well as experienced in delivering the service in conjunction with a partner channel, a strategy Imaging 411 has had throughout their ten year history in this market," said Ted Lesinsky, vice president of sales, Astute Networks.
About Astute Networks
Astute is the leading provider of Networked FlashTM appliances that accelerate application performance, enhance user productivity and lower IT costs for physical and virtual environments. The company's ViSX family of Networked Flash appliances is based on a 100% solid state flash technology that cost–effectively delivers a high number of sustained IOPS to dramatically increase application performance. Powered by its patented DataPump Engine™, ViSX overcomes performance limitations by non-disruptively delivering shared performance to all servers and virtual machines over previously deployed Ethernet networks. ViSX is available through the company's network of authorized AstuteNet channel partners. For more information, visit http://www.astutenetworks.com.
Astute Networks, Networked flash, ViSX, DataPump Engine, and FlashWRX are trademarks or registered trademarks of Astute Networks, Inc. All other trademarks are property of their respective owners.
About Imaging 411
Imaging 411 is the exclusive national service provider for InoTec scanners and also has provided national onsite service for many popular document scanners and peripherals including Fujitsu, Kodak, Canon, Panasonic and Bell & Howell since 2003 using a nationwide network of their own factory trained field service engineers. Check the website for information about service programs. http://www.Imaging411.com.