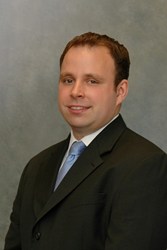 I believe that the firm's ideals fall squarely within my own personal goals and beliefs. I look forward to growing both individually and as an attorney."
Painesville, Ohio (PRWEB) August 06, 2013
Dworken & Bernstein Co., L.P.A. welcomes Frank A. Bartela to the firm's Class Action Department. His practice area is litigation and appeals.
Frank graduated magna cum laude from the State University of New York at Buffalo (SUNY Buffalo) in 2007 with a double major in History and Political Science. While at SUNY Buffalo he was inducted into Phi Beta Kappa.
Mr. Bartela graduated cum laude from Case Western Reserve University School of Law with his J.D. in 2011. While at Case Western he served as an Articles Editor on the Journal of International Law, received a CALI Award for Excellence, participated in the International Law Society, and served as an Instructor in the Foreign L.L.M. Language and Law Institute.
"I am incredibly excited to join Dworken & Bernstein. I believe that the firm's ideals fall squarely within my own personal goals and beliefs" commented Mr. Bartela. "I look forward to growing both individually and as an attorney."
Dworken & Bernstein Co., L.P.A. is the largest law firm in Lake, Geauga and Ashtabula Counties, Ohio with additional offices in downtown Cleveland. Serving the community for over 50 years, Dworken & Bernstein and its 27 lawyers and staff of 65 offers a full range of legal services for businesses, individuals, and families.
Further information about Dworken & Bernstein Co., L.P.A. can be found at http://www.dworkenlaw.com or Ohio Lawyers Give Back at http://www.ohiolawyersgiveback.org.