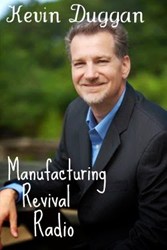 a company that manufactures locally in America can sell more than 50% globally, including to low-cost countries
North Kingstown, RI (PRWEB) August 06, 2013
The Institution for Operational Excellence, the leading educational center providing training and innovative products for achieving Operational Excellence, announced today that founder Kevin Duggan appears on two broadcasts on Manufacturing Revival Radio.
Manufacturing Revival Radio is hosted by Todd Schnick and Todd Youngblood and features industry leaders and innovators driving America's manufacturing resurgence.
In his first segment, Kevin discussed the successful application of Operational Excellence at Hanover, New Hampshire-based Hypertherm and why the company should be a standard for American manufacturing. During the broadcast, Kevin explains how Hypertherm has leveraged lean tools to achieve a uniquely high level of Operational Excellence, and the results the company's realized since. Click here for the podcast.
Kevin followed up with a second appearance on Manufacturing Revival Radio, joining Hypertherm's VP of manufacturing and leader of corporate development/corporate improvement for the interview. The three guests shared more details on Hypertherm's success in achieving Operational Excellence and how the company has taken it to a new level to yield top-line business growth. To hear the segment, click here.
"In both broadcasts, I tried to highlight how Hypertherm stands as an excellent example of a company who has learned to leverage their manufacturing operations to achieve business growth," explains Duggan. "And Manufacturing Revival Radio was the perfect outlet to showcase how a company that manufactures locally in America can sell more than 50% globally, including to low-cost countries."
More information on Manufacturing Revival Radio can be found at http://madeintheusa.dreamlandinteractive.com/.
About the Institute for Operational Excellence
The Institute for Operational Excellence is a recognized leader and expert resource for organizations and individuals who want to design their enterprise to achieve Operational Excellence. Their renowned faculty has helped hundreds of global companies – from startups to Fortune 500 firms – with a wide range of offerings including training events, online teaching, conference speakers and informational articles.