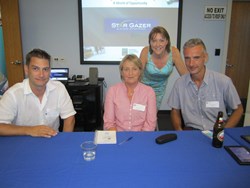 There's more to business networking than just shaking hands and exchanging business cards, done right, networking helps forge relationships with like-minded professionals that benefit all.
George Town, Grand Cayman, Cayman Islands (PRWEB) August 01, 2013
Entrepreneurs who want to grow their businesses need to network. Understanding this vital element in building an entrepreneurial hub, Cayman Enterprise City, Cayman's Special Economic Zone, has launched Biznet, a series of business networking events. The first event was held in early July at zone facilities in the Seven Mile Beach area of Grand Cayman, and it brought together zone clients and local business representatives who met over cocktails in an informal mixer followed by a zone business panel discussion.
Cayman service providers and businesses play an important role in helping international companies settle into the zone on this Caribbean island. A two-way business relationship benefits both Cayman Enterprise City and the local economy. Zone clients also had a chance to meet each other at the Biznet event and they heard from entrepreneurs who have launched three of the startups in the zone and are now successfully operating international businesses. CEC management is keenly aware that success is all about relationships.
"There's more to business networking than just shaking hands and exchanging business cards," said Hilary McKenzie-Cahill, VP of Marketing for Cayman Enterprise City. "Done right, networking helps forge relationships with like-minded professionals that benefit all."
Special Economic Zones are entrepreneurial hubs that foster creativity and innovation, and these networking events help spark ideas and collaboration. Research also shows that entrepreneurs that have a large and diverse network tend to grow bigger businesses. Connections open doors to funding, new markets, needed services and potential employees. And there's absolutely no substitute for personal contact.
"We have 70 companies in the zone now, but kept the numbers small, so it was intimate and people had ample opportunity to visit and get to know each other," said McKenzie-Cahill.
Not only are these Biznet meetings a good opportunity for zone companies to learn from each other, they are a good venue for local service providers to sell their products and services to a new client base. McKenzie-Cahill says young Caymanians hoping to some day start their own business, may be invited to future BizNet events to give them a chance to mix with successful zone entrepreneurs who can share advice on how to start a business and avoid some of the pit falls.
She adds that effective networking by CEC companies involves hiring a resident company for its services or recommending another zone company to customers who have a specific need. This keeps CEC's burgeoning creative community thriving and helping each other reach broader markets. Of course in any business venture, follow-up is vital.
"The feedback from local service providers was very positive and our clients were delighted to meet each other, so we are considering hosting events on a quarterly basis to start and then increasing it to one a month," said McKenzie-Cahill. "If we work together, we can all benefit."
About Cayman Enterprise City
Cayman Enterprise City is a Special Economic Zone in the Cayman Islands, focused on knowledge-based industries, technology companies and specialized services businesses. With a dedicated Government Authority and guaranteed fast-track processes, International companies can quickly and efficiently establish a genuine physical presence and active business income in the Cayman Islands, which demonstrates substance over form. This enables businesses to take advantage of Cayman's jurisdictional benefits which include zero corporate tax, zero income tax and zero capital gains tax, along with a raft of special zone concessions and incentives. These concessions are designed to attract international companies from five specific high-tech sectors; Internet and technology, media and new-media ventures, biotechnology, commodities and derivatives and academia.
For more information call +1-345-945-3722 or visit http://www.CaymanEnterpriseCity.com.