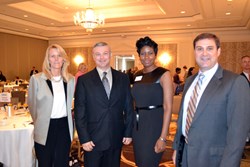 Despite the tight budget environment, particularly in the DoD, agencies will continue spending billions on IT in the coming years.
Herndon, VA (PRWEB) August 02, 2013
According to a new report from Deltek, federal IT spending will decline from $112 billion in FY 2013 to $102 billion in FY 2018 as a result of multiple initiatives aimed to improve the efficiency of IT spending. Although agencies are working towards strengthening IT program portfolios and performance, commitment to IT as an enabler of cost savings will continue. These parallel objectives will create pockets of opportunity across the federal government while creating challenges for some established firms.
Deltek's new GovWin IQ report "Federal IT Market, FY 2013-2018," provides insight into contractor-addressable budgets across the federal Hardware, Software, IT Services, and Communications and Network Services markets – helping contractors identify areas of budget growth and contraction so they can better plan and execute their business development strategies.
Forecast reflects relative stability for IT
Despite the Office of Management and Budget's reported $3 billion in savings from IT mandates such as data center consolidation, shared services and cloud computing, the 2.1% increase in the FY 2014 IT budget request clearly reflects the need for continued investment in IT to improve the efficiency of government operations. However, long term budget realities will lead to cost-cutting and value tradeoffs, such as eliminating redundant investments, selecting lower cost alternatives, and strategic sourcing to leverage purchasing power.
"Much of the decline will be due to a concerted effort to eliminate waste and increase efficiency," said Deltek Principal Analyst Alex Rossino. "But there will be continued growth in areas that are focused on maximizing the efficiency of current systems, such as cloud computing and consolidation related initiatives."
Agencies will also continue to invest in key technologies to support operational success, such as cybersecurity, ISR and mission applications.
Deltek's forecast includes IT spending not reported through the Office and Management and Budget (OMB), such as the judicial and legislative branches, the intelligence community, federal organizations that are not subject to federal IT budget reporting requirements, and IT embedded in large defense systems.
"Despite the tight budget environment, particularly in the Department of Defense, agencies will continue spending billions on IT in the coming years," said Deniece Peterson, Director of Federal Industry Analysis at Deltek. "But they will be forced to be more judicious about where those investments are made."
The long-term decline in IT contract spending, while predictable given the recent budget cuts, is a reminder of the challenges companies face in minimizing the exposure of their existing revenue streams to budget cuts while ensuring they are well positioned for the existing growth opportunities in the market.
For more information on GovWin IQ and this report, visit the "Federal IT Market, FY 2013-2018" page on GovWin.com. The report is free to subscribers of GovWin's Federal Industry Analysis program. Press interviews can be arranged by contacting Lauran Cacciatori.
About GovWin IQ
Deltek's GovWin IQ provides the market intelligence tools and analysis government contractors need to gain a competitive advantage and be a formidable player in the federal market. Backed by a team of government research and analysis experts, GovWin IQ provides the most powerful, comprehensive, and timely lead generation and business intelligence solutions available. More than $1.8 trillion opportunities are tracked every year – a number no other competitor can match. http://www.govwin.com.
About Deltek
Deltek is the leading global provider of enterprise software and information solutions for professional services firms and government contractors. For decades, we have delivered actionable insight that empowers our customers to unlock their business potential. 16,000 organizations and 2 million users in over 80 countries around the world rely on Deltek to research and identify opportunities, win new business, optimize resources, streamline operations, and deliver more profitable projects. Deltek – Know more. Do more.® http://www.deltek.com.
Follow us on Twitter @Deltek or fan us on Facebook at http://www.facebook.com/deltekinc.