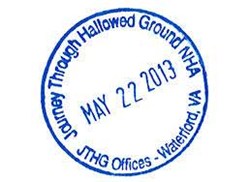 Waterford, VA (PRWEB) August 02, 2013
With summer in full swing, now is a great time to explore various travel destinations. In addition to the 13 national parks located within the Journey Through Hallowed Ground National Heritage Area, travelers can now participate in the Passport to Your National Parks® Program at key historic sites and visitor centers within the region.
The Journey Through Hallowed Ground National Heritage Area is a 180-mile long, 75-mile wide swath of land stretching from Gettysburg, Pennsylvania, to Thomas Jefferson's Monticello in Charlottesville, Virginia. This is Where America Happened™, as the region contains more history than any other region in the nation and includes: World Heritage sites, 16 National Historic Landmarks, over 10,000 sites on the National Register of Historic Places, 49 National Historic Districts, nine Presidential homes, 13 National Parks, hundreds of African American and Native American heritage sites, 30 Historic Main Street communities, sites from the Revolutionary War, the French-Indian War, the War of 1812 and the largest concentration of American Civil War sites in the nation.
At the organization's annual conference in Gettysburg, the Journey Through Hallowed Ground Partnership launched an expansion of the Passport To Your National Parks® program to include dozens of additional sites within the National Heritage Area. Since its inception in 1986, the Passport To Your National Parks® program has introduced millions of visitors to the National Park System and continues to promote visitation, education, and appreciation of America's national treasures. This popular program, administered through Eastern National, includes a passport book and online resources that lists all national parks in the United States.
The Passport To Your National Parks® program is one of the most popular ways to preserve memories of visits to America's national parks. Visitors can get their complimentary Passport cancellations at each site they visit. The rubber- stamp ink markings record the name of the location and date of the visit.
The program is already in existence at the 13 national parks located within the Journey Through Hallowed Ground National Heritage Area, including Antietam National Battlefield, Appalachian National Scenic Trail, Appomattox Court House National Historic Park, Catoctin Mountain Park, Chesapeake and Ohio Canal National Historic Park, Eisenhower National Historic Site, Fredericksburg and Spotsylvania National Military Park, Gettysburg National Military Park, Harpers Ferry National Historic Park, Manassas National Battlefield, Monocacy National Battlefield, Potomac Heritage National Scenic Trail, and Shenandoah National Park.
However, the official visitor centers within the fifteen counties located within the region will now be able to stamp the passports, as well as key historic sites such as the David Wills House, National Museum of Civil War Medicine, Newcomer House, Oatlands Historic House and Gardens, Brentsville Courthouse Historic Centre, Montpelier, Monticello, Ash Lawn-Highland, and others. All of these locations will be included on a new map/brochure of the Journey Through Hallowed Ground National Heritage Area, which will include a panel on which to collect cancellation stamps. For a full list of participating locations, visit http://www.hallowedground/passport. The National Park Foundation has stated that most Americans are less than 100 miles from a national park experience. Within this swath of land, we are fortunate to have 13 national parks within 180 miles, so take full advantage.