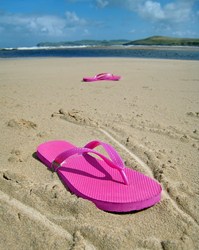 Sales of summer footwear tripled over the recent British Heatwave, compared to the damp July of 2012
Birmingham, UK (PRWEB) August 07, 2013
"The feel-good factor from the heat wave and early summer sales has helped boost high street sales, after a very weak start to the year."
These welcome words were issued by CBI's Director of Economics, Stephen Gilford, following a rise in sales for much of the retail sector. CBI recently conducted its monthly Distributive Trades Survey and published the encouraging statistic that "43% of firms reported that sales volumes were up on a year earlier."
Following one of the coldest winters on record and one of the wettest summers prior to that, the UK's recent heat wave appears to have driven customers to the shops. However, in light of the on-going economic crisis, what are we spending our money on? In a period of extended sunshine and with temperatures rivalling many European holiday destinations, the sales of seasonal goods such as ice cream, barbecues, sun cream and flip flops have increased significantly.
According to CBI, sales in the clothing & footwear sectors grew by 45% as more and more consumers embraced the warm weather and headed for the high street. This was no more clearly highlighted than by Lord Wolfson, Chief Executive of Next who recently said: "Sales are more affected by short term events such as a change in the weather" as "consumers are becoming more spontaneous in their purchasing habits".
However, what impact has this bout of warm weather had for online retailers? Christopher Thomas, Managing Director at shoe retailer Cloggs.co.uk had the following to say: "Cloggs has welcomed the positive effects of this seasonal surge in temperature and spending. In particular, there has been a large rise in our sales of flip-flops and sandals. In stark contrast to this period last year, we have seen up to a 200% increase in summer footwear sales. It is always rewarding to see in this hugely competitive market that consumers still look to online e-retailers such as Cloggs.co.uk for their seasonal buys of flip-flops, plimsolls and sandals."
Overall, the survey published by the CBI exemplifies an interesting relationship between customer spending and the weather. As temperatures soar, so do sales.
Yet, what this survey demonstrates most of all was succinctly summarised by Christopher Thomas: "The significant increase in sales during the July heat wave clearly highlights the importance for retailers to adapt at short notice to the needs and demands of its customers. For example, B & Q recently achieved a 12 year high for its share price after seeing their barbecue sales heating up by 89% in comparison to previous months."
Although the significant boost in July sales is a pleasing sign that consumers are still willing to spend, the harsh reality is that the high temperatures are sadly for the short term. It will be interesting to see how the major retailers can encourage consumers to spend in the coming months.
ABOUT CLOGGS
Cloggs is a leading international online retailer in footwear. Established in 1979, Cloggs has its head office in Birmingham.
Since it launched online in 1998, it has stocked a wide range of well known, high street brands delivering them free of charge to customers. The company now stocks over 100 brands and has sold over 1 million pairs of shoes throughout the world. Cloggs accepts all types of payments, provides its customers with the highest levels of security, is PCI-Tier 1 compliant and has a free lifetime returns policy.