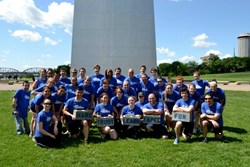 "The Mission Continues is psyched to be named one of Outside Magazine's Top Places to work in America," says Spencer Kympton, president of The Mission Continues. "We love what we do and it shows in our culture."
St. Louis, MO (PRWEB) August 01, 2013
The Mission Continues today was named to Outside Magazine's sixth annual "Best Places to Work" list. The Mission Continues was ranked No. 49 out of 100 selected companies. The full list of the top-ten-performing small, medium, and large companies will be published online on August 1 at OutsideOnline.com/bestplacestowork.
Outside's "Best Places to Work" project celebrates the innovative companies setting a new standard for a healthy work-life balance. The list was compiled with the help of the Outdoor Industry Association and Best Companies Group. The yearlong selection process began with an outreach effort that identified a wide range of non-profit and for-profit organizations with at least 15 employees working in an office in the United States. Participating companies were sent confidential employee-satisfaction surveys and employer-questionnaires to collect information about benefits, compensation, policies, job satisfaction, environmental initiatives, and community outreach programs. The experts at the Best Companies Group then analyzed the results and selected the companies that best enable employees to pursue active lifestyles while also supporting their social and environmental contributions.
This year's "Best Places To Work" list will highlight not only the Top 100 companies, but will also spotlight those on the list that offer the best perks, including "Fitness-Friendly" companies, those with the "Best Benefits", and the "Best Social/Environmentally Responsible" organizations. The list will also pinpoint the companies based on location, highlighting the "Best Places To Work" in the West, the Mountains, the Midwest and South, and the Northeast.
"The Mission Continues is psyched to be named one of Outside Magazine's Top Places to work in America. We love what we do and it shows in our culture," says Spencer Kympton, president of The Mission Continues. "Our work is truly a source of joy that enriches our lives. We come in every day ready to rock it on behalf of today's veterans."
"We're thrilled to celebrate all 100 of these forward-thinking companies," says Michael Roberts, Senior Executive Editor of Outside. "They believe success depends on helping their employees live more active and fulfilling lives. The kinds of benefits they're providing—free fitness classes, flexible hours, subsidized healthy meals, lots of time out of the office—result in a more productive and engaged staff."
The Mission Continues is a national veteran service organization that empowers post 9-11 veterans to reconnect to their communities and their sense of purpose through volunteerism. Through The Mission Continues, veterans participate in a six month service and leadership program, while volunteering at least 20 hours a week for community organizations like Habitat for Humanity, The American Red Cross and the Girl Scouts of America. The Mission Continues fellowship program is a unique model that provides reciprocal benefit for the veteran and the local community. Veterans use their leadership expertise to help others and, through their service, develop new skills and networks that help them launch their civilian careers.
Contacts:
the Mission Continues: Laura L'Esperance/ llesperance(at)missioncontinues(dot)org /212.430.6549
Outside Magazine: Jada Williams/ Jada(at)giantnoise(dot)com / 646.649.4933
About The Mission Continues
The Mission Continues is a national nonprofit organization that empowers U.S. military veterans, who have served since the events of 9/11, to successfully transition to post-military careers by reconnecting to their communities and their sense of purpose through volunteerism. Founded in 2007 by retired Navy SEAL and TIME 100 2013 honoree Eric Greitens, The Mission Continues has helped more than 700 post-9/11 veterans focus their talents and energy to tackle challenges facing us right here at home. Through a unique model that provides reciprocal benefit for the veteran and the local community—six-month service fellowships—veterans volunteer to help others and, through their service, build new skills that help them launch their civilian career. For more information, please visit http://www.missioncontinues.org or follow us on Twitter @missioncontinue.
About Outside
Outside is America¹s leading active lifestyle brand. For more than 30 years, Outside has covered travel, sports, adventure, health, and fitness, as well as the personalities, the environment, and the style and culture of the world Outside. The Outside family includes Outside magazine, the only magazine to win three consecutive National Magazine Awards for General Excellence, The Outside Buyer's Guides, Outside Online, Outside Television, Outside Events, Outside+ tablet edition, and Outside Books. Visit us online and on Facebook.
About The Best Companies Group
Best Companies Group works with national and local partners around the country to establish and manage "Best Places to Work," "Best Companies," and "Best Employers" programs on a national, statewide, and regional basis. Through its thorough workplace assessment, utilizing employer questionnaires and employee-satisfaction surveys, BCG identifies and recognizes companies who have been successful in creating and maintaining workplace excellence.
About The Outdoor Industry Association
Founded in 1989, Outdoor Industry Association (OIA) is the premier trade association for companies in the active outdoor recreation business. OIA provides trade services for over 4000 manufacturers, distributors, suppliers, sales representatives and retailers in the outdoor industry. Outdoor Industry Association seeks to ensure a healthy and diverse specialty retail and supply chain based on quality, innovation and service. To this end, OIA works diligently to raise the standards of the industry; increase participation in outdoor recreation to strengthen business markets; provide support services to improve member profitability; represent member interests in the legislative/regulatory process; promote professional training and education; support innovation; and offer cost-saving member benefits. Search for outdoor-industry jobs is at OIA's career center: http://www.outdoorindustry.org.