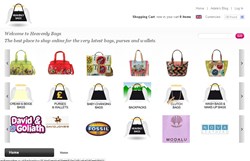 If you do this you will have your products in the search engine rankings early and should be able to take advantage of the 'buzz' about the product before anyone else
Bolton, Lancashire (PRWEB) August 06, 2013
1.Content
Google likes to see websites which 'grow steadily' and contain unique (not copied) content.
Add new products as soon as they become available.
If the product isn't available then set it to pre-order.
"By doing this you are likely to have your products in the search engine rankings early and should be able to take advantage of the 'buzz' about the product before anyone else," advises Dan Robinson, head of Vizcom the Manchester E Commerce web design company.
Draw attention to new products by adding a button in a prominent place as customers will often look here.
2. On site optimisation
When people use a search engine to buy something they usually choose one or more of the following ways of searching.
Examples of typical searches using chesterfieldleathersofas.co.uk as an example:
General: "Chesterfields" visitor enters at the home page.
More specific: "Chesterfield sofas made in the UK" visitor enters at the sub-category page for sofas.
Product and brand specific: "Blue velvet 4 seater Chesterfield sofa by The Chesterfield Leather Sofa Company" visitor enters at the actual product page.
Add Meta Data and unique content to all categories and if possible also add it to top selling and brand new products.
Meta Data consists of an HTML page title (which if using Internet Explorer or Firefox) is the very top blue horizontal bar on the browser.
This should describe the page and contain the targeted search phrases.
"It is important not to 'keyword stuff' the titles as this can have a negative effect on your search engine rankings" recommends Dan.
"Other items of Meta Data include the keywords tag (which is now ignored by most search engines) so you needn't add anything here," adds Dan, head of Manchester based search engine optimisation company, Vizcom Design.
Meta Data also includes the description tag, this is crucial as it helps contribute to your search engine position and is your advert to searchers.
Again do not keyword stuff this section or simply repeat text from your website and make it attention grabbing.
"Mentioning the phrase you are aiming to get traffic for will also help rankings" added Dan.
For example, Google the phrase "Perfect Fit blinds Bolton" the Meta Description for http://www.boltonblindsandshutters.co.uk reads:
"Perfect Fit Blinds are energy saving, versatile and child safe. Contact Bolton Sunblind Centre for the very best prices."
3. YouTube
"Create 'how to' videos promoting your website and showing viewers how the products work" suggests Dan.
This is an example of a promotional video for Vizcom http://youtu.be/hXm9_e3NWEs
4. Top sellers
Keep these prices competitive.
"I would recommend having these products as featured products or appearing on rotating banners" advises Dan.
5. Specials
Create a sale page as these products are often bought to top up orders or by shoppers looking for a bargain.
6. People who bought this also bought
Most E Commerce sites have this feature included, it will help encourage visitors to buy more.
7. Links
Links are great for improving a sites rankings and driving traffic to it.
Unnatural linking
The Google Penguin algorithm update now penalises websites with unusual linking patterns.
A website needs links pointing to various pages and not just the home page.
For example if Vizcom were aiming to rank well for the search term E Commerce web design Manchester then derivatives of this phrase like Vizcom the Manchester E Commerce web design company, Manchester based E Commerce web firm, etc. would be beneficial.
Links are usually more effective (ranking wise) if they are contained within a paragraph of text which talks about the subject on a website which is of high quality and similar to the subject being searched for.
Aim for a good spread of links from quality websites.
"There are many examples of software available to help with your on site and off site optimisation I would use Moz," recommends Dan.
Another way to generate traffic and sales is to ask suppliers for links.
"If you are a member of any related association or professional body ask them to link to your site" said Dan.
"Linking out to websites can also be beneficial if the site you are linking to is of high quality, related and of benefit to your visitor" he added.
8. Site speed
How fast the site loads and how it works on mobile devices is now a factor contributing to search engine results.
9. Press releases
"Write articles about your business and submit them to press release sites and send to local and trade media" recommends Dan.
"Make sure the articles contain your targeted phrases and link them to your website" he added.
10. Blogs
Use a blogging platform like Wordpress. Keep a diary or write articles about the company or products. Add links within the article.
11. Discounts and offers
Examples include:
10% off your first order
Recommend a friend and receive free shipping on your next order
Free gift if you spend £x or recommend a friend
12. Email marketing
"If you add a subscribe to our newsletter option (which can be added to the registration process) then you will soon build up an email list" suggests Dan.
Your newsletter can contain offers, new products and website coupon codes.
13. Social Media
Start with Facebook, Twitter and Google Plus and encourage customers to join in.
How often website pages are shared or talked about in Social Media can now affect where a site ranks.
"There are many social sites and some of my favourites include: Delicious, Stumbleupon, Instagram and Pinterest" said Dan.
14. Reward points
Add-ons can be used on most E Commerce sites to allow customers to earn reward points, another way to encourage loyalty.
15. Google Analytics
Set up a Google Analytics account to see where website traffic is coming from, what phrases people are using to find the site and which are the most popular pages.
"SEO software like Moz can be used to connect to Google Analytics and help provide useful information on how to optimise your site" said Dan.
16. Webmaster Tools
"Create a Google Webmasters tool account. This will flag up any issues you may have with your site from a technical point of view" advises Dan.
17. Google Adwords
The key with Adwords is to make sure that adverts are specific.
Don't make the mistake of creating general ads which simply dump people on the home page, take them to the product page where a customer can just click to buy.
18. eBay and Amazon
"If you haven't already create shops on both platforms. You will receive traffic (indirectly) from both sites and generate sales from people who trust these websites" recommends Mr. Robinson.
19. Reviews
Send new, popular or unusual products to people to review and write about.