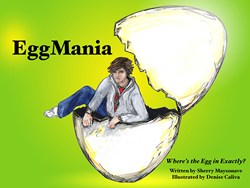 500 copy Educational Giveaway of Award-winning EggMania
Austin, TX (PRWEB) August 01, 2013
Beginning August 1st, 500 copies of the award-winning eBook EggMania: Where's the Egg in Exactly? will be given away in a Back-to-School promotion. Written by Sherry Maysonave and illustrated by Denise Caliva, EggMania is a multi-sensory, multi-dimensional iBook aimed at children ages 6-12.
EggMania is a tongue-twisting tale of adventure loaded with brainy enrichment. Acknowledging that kids learn through play, EggMania was written to educate and entertain children growing up in today's digital world. EggMania is the first ebook in the ManiaTales series.
The month-long promotion is being conducted in conjunction with Educents, a leading educational products website. Register for the promotion at http://www.educents.com.
EggMania was awarded the IPPY Bronze Medal for the 2013 Best Children's Illustrated ebook, is certified as kidSAFE, and more than 35 readers have given it 5-star reviews on the Apple iBookstore. EggMania is 190 pages, features stunning original art, advanced vocabulary with touch-sensitive definitions, and features an educational hunt-and-find game with over 150 mind-boggling, narrated "Fun Facts."
The ManiaTales series focuses on "interactive imagination" and phonetic word plays, enabling children to interact with words and illustrations through technology. As Albert Einstein said "Imagination is everything. It is the preview of life's coming attractions."
The next book in the ManiaTales series, EarMania: Where's the Ear in Regardless? will be released in the fall of 2013. EggMania is available for only $9.99 on the Apple iBookstore. View the ebook's entertaining video trailer and ebook educational tips for parents and educators at http://www.maniatales.com.