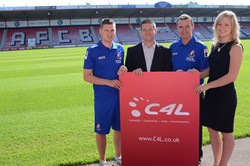 As an industry leader delivering Internet connectivity, we are very aware of the potential risks and dangers associated with uncontrolled internet access. As a business owner and father, I feel we all have a duty and responsibility to protect our children
(PRWEB UK) 1 August 2013
C4L is delighted to support the Internet Safety Scheme in association with AFC Bournemouth's Community Sports Trust.
The scheme will last for 40 weeks, running throughout the academic year. The objective of the scheme is to give guidance to parents and protect children from potential dangers when using the internet including social media sites.
The key facts and points to protect children from internet dangers will be delivered through football drills and activities, while parents will be advised about the restrictions and parental control measures available when children access their mobile phones, computers or other online devices.
Head of the Community Sports Trust, Steve Cuss, said, 'I am delighted that we have the opportunity to run Connect With Care for the community in partnership with C4L, without whom we would not able to offer such a scheme.'
The subject of internet safety has featured highly on the public agenda in recent weeks and the project demonstrates the club's policy of working on issues that matter to local people.
(Pictured left to right: Jamie Dighton Community Sports Trust Assistant Manager, Gary Barter C4L Marketing Manager, Steve Cuss Head of AFCB Community Sports Trust, Catherine Stanley AFCB Partnerships Executive)
Internet access is widely accessible now, at home, in school and on mobiles, so it is crucial to help parents and children understand more about using the internet safely.
C4L's CEO, Simon Mewett (pictured below) said, 'This is such an important project and we are more than happy to volunteer our time and expertise to support this scheme.'
He adds, 'As an industry leader delivering Internet connectivity, we are very aware of the potential risks and dangers associated with uncontrolled internet access. As a business owner and father, I feel we all have a duty and responsibility to protect our children.' He adds, 'We had no hesitation in supporting AFC Bournemouth Community Sports Trust to deliver this scheme and fully agree with the government's recent announcement to help protect our children from pornography and abuse.'
According to the BBC website, 22 July 2013, the Prime Minister, David Cameron announced he had reached agreement with the four biggest ISPs on pornography filters, after some behind the scenes tussling. But he hinted that if search engines like Google didn't agree to a blacklist of search terms, he would legislate. The prime minister has warned internet companies that they need to act to block access to child abuse images or face new legal controls.
C4L's CEO Simon Mewett said, 'We totally agree with this and will do all we can to comply and assist, in the meantime, we are happy to support AFC Bournemouth Sports Community Trust providing knowledge and training to children and parents about using the internet safely.'
-Ends-
For more information visit http://www.C4L.co.uk/pr, or Tel: Jade Yarham +44 (0)8000 470 481 Ext 736
About C4L
C4L is a leading data centre colocation and connectivity solutions provider, with access to over 100 UK data centres and more than 300 globally. C4L offer a range of services including colocation, connectivity, cloud and communications. With their own data centre located on the South West coast and a fully privately owned, high-capacity, 1-100Gb capable fibre-optic network, utilising equipment from leading technology vendors such as Cisco. This network links multiple data centres across the UK using a diverse fibre optic backbone and DWDM technology to provide very high performance.
C4L clients include government agencies, FTSE 250 companies, international financial institutions, system integrators, top 100 VARs, resellers and many of the UK's network carriers. Our entire business is committed to customer satisfaction and quality of service and we have achieved certifications such as ISO9001 & 27001 to demonstrate this. C4L was the 2012 winner of HSBC's South West Business Thinking initiative, and has been ranked in the Deloitte Technology Fast 50 and Fast 500 EMEA, as well as the Sunday Times Microsoft Tech Track 100.
About AFBC Community Sports Trust
AFC Bournemouth's Community Sports Trust was established as a charitable trust in 2007. The Club's community scheme reaches over 2,500 children and families across Dorset each week, offering football and educational based projects. The Trust has been awarded Silver Status by The Football League Trust for their excellent work in the community. This valuable work is funded by the public as well as private investors, enabling partners to demonstrate their commitment to the community, reach a diverse audience and hit corporate social responsibility objectives.
The Community Sports Trust motivates and engages people of all ages, backgrounds and abilities towards common goals of building self-esteem, personal development and to inspire a thriving community.