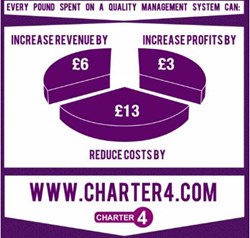 (PRWEB UK) 3 August 2013
Research has shown that every £1 spent on an ISO 9001 quality management standard can help organisations reduce cost and increase revenues:

Increase revenue by £6
Reduce costs by £16
Increase profits by £3
ISO 9001 can reduce cost by reducing the number of defects, reducing waste, lowering warranty costs, improving staff motivation and productivity, reducing the number of incidents by taking preventive actions and solving problems more efficiently. ISO 9001 certification can increase revenues by opening new markets, winning more customers, increasing customer satisfaction, understanding customer needs better, developing new products and services that meet customer needs, reducing complaints and increasing the overall quality of service.
Profit and Investment Returns from ISO 9001 Certification
Return on Sales improvement of 1.6 percentage points over three years average increase, academic studies suggest.
Return on Asset improve by an average increase of 1.2 percentage points over the three year certification cycle.
Both benefits and costs are estimates. The cost of ISO 9001 certification is estimated by using the organization's number of employees, which provides the estimated duration for assessments that would be completed by BSI in three years.
What is Return on Sales and Return on Asset?
Return on Sales is Net Profit (after interest but before tax and dividend payments) divided by Revenue. In most companies, Revenue means the same as Sales or Turnover. The Profit/Sales measure tells how much profit is being produced per unit of sale. Return on Asset is Net Profit (after interest but before tax and dividend payments) divided by Total Assets.
The measures are usually expressed as a percentage and measured over a full year.
The figures were calculated by using the averages of 5 different academic studies that studied approximately 2,500 companies in different industries and geographies.
The infographic in the image was created by Charter 4 to explain all the processes and benefits of gaining ISO 9001 Accreditation.
The full infographic can be found here: http://www.charter4.com/2013/07/09/iso-9001-infographic-quality-management-standard/