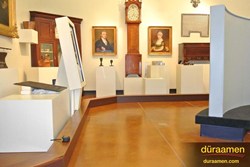 Lancaster, Pennsylvania (PRWEB) August 01, 2013
Düraamen, one of the leading manufacturers of quality flooring with products such as stained concrete floors, concrete dyes, UV resistant dyes, and much more, has recently announced the installation of their polished concrete floors in the Lancaster History Museum by Balmer Brothers Construction. The Lancaster History Museum has successfully implemented new flooring by taking advantage of Düraamen's freshly poured concrete as a cost effective and durable solution.
The Lancaster History Museum is a community-based and not-for-profit organization. Its purpose is to educate the public on the history or Lancaster County in the United States. It promotes the acquisition and preservation of the history of Pennsylvania. The museum features the life and legacy of James Buchanan, the nation's fifteenth president.
The Lancaster History Museum chose the freshly-poured concrete option for its uniqueness, aesthetic, and durability. Düraamen provides its customers with flooring that is unique in color and design. Additionally, Düraamen supplies the fastest application in the industry.
Various flooring options are available with Düraamen. The Lancaster History Museum selected concrete flooring for their facility. Düraamen is a company that can accommodate every budget. Highly skilled contractors install efficient Düraamen flooring products for a range of different industries.
For more information regarding Düraamen's quality flooring supplies, contact Victor Pachade at (866) 835-6595 or online at victor(at)duraamen(dot)com. You can visit their website for more information at http://www.duraamen.com/products/concrete-color-acrylic-dye/.