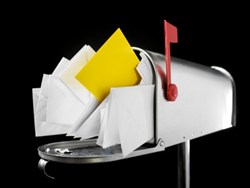 Don't worry about the inbox layout… Instead, focus your efforts on creating such a fantastic email that your customers will make sure they read it, even if it means going out of their way to do so.
(PRWEB) August 01, 2013
In a recently posted blog titled, "Gmail Changes: How Some Marketers Will Win," Predictable Profits founder and CEO Charles Gaudet faces the much-lamented Gmail inbox changes head on. He urges marketers to take a step back from their perception of the problem, and recognize that whatever the method of delivery, the entire purpose is to have a message be well received.
The changes to the Gmail layout, namely the inclusion of "Social" and "Promotions" inbox filtering, has been the subject of many complaints with marketers having a harder and harder time getting their email messages read by consumers.
"Don't worry about the inbox layout…" says Gaudet, "Instead, focus on creating such a fantastic email that your customers will make sure they read it, even if it means going out of their way to do so."
He urges email marketers to rethink their strategies to provide true value that customers willingly seek out – simply because the content is so valuable to them. This is a departure from the typical "sales pitch" emails that many marketers send, and Gaudet is adamant that this will be the mark of success in the changing landscape of email marketing.
"The method is only so important – it's the message that counts." Gaudet continues, "And if your customers and prospects come to expect a ton of value from your messages, they'll go out of their way to make sure they read them – no matter what inbox they land in."
The Predictable Profits founder maintains that delivering a high quality message and forging a meaningful relationship with customers will overshadow any roadblocks to email delivery, and that marketers must rethink their strategies if they wish to stay competitive.
The Predictable Profits blog features regularly updated, expert advice for marketers and business owners seeking to capitalize on overlooked opportunities for growth and more consistent profits.
ABOUT CHARLES GAUDET:
Charles Gaudet is widely recognized as a leading small business expert for entrepreneurs who aren't willing to settle for mediocre profits, and want to out-think, out-market, and out-earn their competition. His business advice has been featured on Inc., Fox Business, Forbes, and many other media channels. On his website, PredictableProfits.com, he's endorsed by a range of clients, reporting that Charlie's been the driving force behind marketing strategies earning as much as 6-figures in as little as just 24 hours, and anywhere from 30% to over 100% growth in under a year. He is the founder of Predictable Profits and the Publisher of The Predictable Profits Insiders Club. Follow Gaudet on Twitter at http://www.Twitter.com/CharlesGaudet.
ABOUT PREDICTABLE PROFITS:
Predictable Profits is a leading small business marketing company, specializing in finding overlooked marketing opportunities commonly found in most small-to-medium sized businesses for generating quick, dependable, and predictable profits without having to spend any more money in advertising.
For more information on how to grow your business, visit http://www.PredictableProfits.com and take the FREE Profit Profile Business Assessment to receive an instant snapshot of the opportunities and strengths existing in your business today!