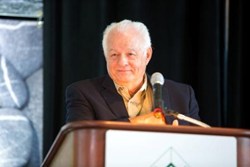 My goal has always been to leave the land better than I found it.
Washington, DC (PRWEB) August 08, 2013
The American Tree Farm System® (ATFS), a program of the American Forest Foundation, has named Joe Arington of Wisconsin the 2013 National Outstanding Tree Farmer of the Year, an annual sustainable forestry honor sponsored by STIHL, Inc.
The award of two $500 gift certificates from STIHL was presented on July 27 at the annual National Tree Farmer Convention in Minneapolis, Minnesota. Arington, the 2013 North Central Regional Tree Farmer of the Year, was selected from among four regional winners as the family forest owner who best exemplifies the forest stewardship practices of ATFS. The 2013 regional awardees are John William Bembry of Georgia, Bill and Joan Arsenault of Oregon, and Allen R. Yale, Jr. of Vermont.
"We are thrilled to announce Joe Arington as the 2013 National Outstanding Tree Farmer of the Year. From the first 20 acres Joe purchased, he has been committed to improving the land and sharing his learnings with the larger community which will help inspire the next generation of woodland owners," said Bettina Ring, Senior Vice President for Family Forests at the American Forest Foundation.
"We are grateful for Joe's commitment to the American Tree Farm System and to protecting Wisconsin's forests," added Ring.
Arington manages 160 certified acres of forestland and the farm includes thousands more acres of woodlands, marshes, ponds, streams, grassland, and cropland. More than 130,000 trees have been planted on Arington Tree Farm over the past decade.
"It's been tremendous to be part of the Tree Farm's growth and evolution," said Arington's daughter, Lisa. "Dad started something that grew out of a passion he had – respect for the land and the desire to make it better for the future. This land ethic is instilled in us and we embrace the responsibility to instill it in our children, the next generation of caretakers."
Seven grandchildren live on the property, and will say that they "love everything" about the Tree Farm. The family hosts nearly 100 students annually for Arbor Day festivities and has developed a partnership with the Walbridge School, a small charter school in Madison. Walbridge students visit Arington Tree Farm multiple times a year to engage in stewardship projects, and to learn about forests and forest management.
Arington purchased his first 20 acres near Cambridge, Wisconsin in 1999. Having spent his life's work in business with no forestry background, he sought out opportunities to educate himself, including attending a field day of the local chapter of Wisconsin Woodland Owners Association. Arington returned to his property with several ideas for goals and actions on his land.
Shortly after that initial field day, Arington contacted a consulting forester to have a management plan written for his land. This initial management plan provided a 25-year blueprint for managing what would soon become Arington Tree Farm. This plan has now evolved to cover the next 100 years, to "ensure that the second and third generations remain passionate and committed to the long-term viability of this land," said Arington in his comments to more than 300 fellow Tree Farmers at the annual convention.
Arington noted that he bases his planning on three broad goals: stewardship for ATFS certification; a principled land ethic; and ensuring the financial viability of the property. "My goal has always been to leave the land better than I found it," said Arington.
The family maintains a blog about their land called Under the Oak Tree which can be read at blog.aringtontreefarm.com.
The Outstanding Tree Farmer of the Year awards are generously sponsored by STIHL, Inc., manufacturer of the number one selling brand of handheld outdoor power equipment in America. STIHL is proud to support the accomplishments of hard-working Tree Farmers from across the country.
The American Tree Farm System® is a network of 82,000 family forest owners sustainably managing 24 million acres of forestland. It is the largest and oldest sustainable woodland system in the United States, internationally recognized, meeting strict third-party certification standards. The American Tree Farm System® is a program of the American Forest Foundation. Learn more at http://www.treefarmsystem.org/awards-recognition.
###