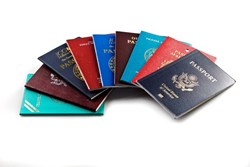 Church Hill, TN (PRWEB) August 06, 2013
Holliston, the leading United States- based manufacturer of distinctive and durable cover materials, announces the addition of Garda-Mate to its security line. This addition to our vast array of security cloth and paper covering products will heighten our ability to service the global need for Security documents; such as premium passports and official government identification.
Garda-Mate is a security cloth that is highly refined to maximize passport durability, with a leather-like look and feel that delivers high-end value. It is very durable, but also easily decorates and can accommodate a wide variety of UV printing, embossing, foil/pigment stamping, die-cutting and can be laminated to board, doubling the scope of possible applications.
"As the global Leaders in Passport cover material; we at Holliston LLC continue to look for innovative ways to expand options for the Passport community while maintaining our global recognized and proven product durability in all our materials," said William Waldron, V.P. Security Materials.
Our diverse product portfolio is specified by the United States Government and more than 60 countries to meet their specific and demanding identification requirements. Our century-long expertise in durable construction, secure coatings and hard-to replicate embossing is augmented by the very latest cutting-edge technologies in multiple UV overprints options.
Holliston's 180 acre- campus in Church Hill, TN houses manufacturing, warehousing, pilot plant and research laboratory.
For more information about Holliston's vast array of durable, decorative, brand building material contact them at 800-251-0451.
###