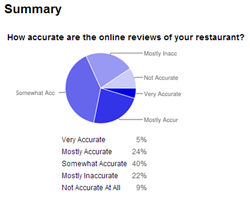 Our survey shows that restaurant owners clearly feel helpless when it comes to online reviews.
Bloomfield Hills, MI (PRWEB) August 01, 2013
Dave Gonynor, CEO of That's Biz, has released the results of a July survey which asked restaurant owners how accurate they feel reviews of their restaurants are on sites like Yelp, Trip Advisor, City Search, and Google. He was shocked by results which show that 31% think that online reviews are mostly inaccurate or not accurate at all; 40% think that online reviews are at best somewhat accurate; only 5% believe they are very accurate, and 24% believe they are somewhat accurate.
The cost of a bad restaurant review can have a tremendous impact on restaurants. Restaurant owners are frustrated by these sites because they feel they have little recourse to ensure their accuracy. Sometimes a surly customer with a smartphone judges a restaurant based on a meal that was just not to their taste and fires off an opinion to thousands of readers ranting about the lousy food. Potential customers who look at these restaurant review sites make decisions about whether to eat at their restaurant based on a fraction of the total number of customers that have eaten there.
"Our survey shows that restaurant owners clearly feel helpless when it comes to online reviews," commented Gonynor. "They are frustrated by the small sample of people that eat at their restaurant that provide reviews. What's even worse is they feel that customers that had a poor experience are more inclined to post an online review."
When asked to explain further, many restaurant owners felt that the online sites included reviews provided by disgruntled ex-employees; unruly customers that management tried to deal with at the restaurant; exaggerations by the customer; negative reviews by competition; and old reviews that were provided up to five years ago.
"We tend to agree with the restaurant owner that review sites seem to attract more negative reviews," concluded Gonynor. "We process thousands of feedback surveys for restaurants, and the positive feedback generally outweighs the negative two to one. We have found that the best source of honest feedback regarding a restaurant is still a recommendation from a friend."
About That's Biz: That's Biz has worked exclusively with thousands of restaurants across North America to promote their business using online marketing tools such as Facebook marketing, email marketing and guest surveys. The company provides restaurant owners and managers with valuable insights that help bring in more diners and manage customer feedback more effectively. Visit the website and Facebook page or call 866-575-4769 for more information.