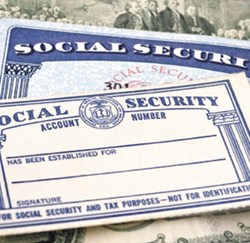 The HireSafe ideology is to provide every client with a more secure, efficient and effective workforce through documented and factual information.
Elk Grove, CA (PRWEB) August 01, 2013
With the very real and common threat of Social Security Number Fraud, there is a solution to this challenge by utilizing the new Consent Based Social Security Number Verification (CBSV) program available from HireSafe.
Although it was never designed in 1936 to be the primary source of personal information, the Social Security Number (SSN) has evolved into our defacto national ID card. In the wake of 9/11 Congress enacted the Real ID Act of 2005 in an attempt to standardize driver license information for all states, however progress and implementation has been minimal.
The basis for every individual's financial "paper trail" remains their SSN, which lacks the controls and effectiveness to combat fraud and Identity Theft. Whether caused intentionally or by keystroke mistakes, miss-matches are an alarmingly common occurrence. So if the data is wrong, how can an employer verify that the individual presenting their SSN during an offer of employment is whom they say they are?
The SSN data utilized for employment identification has been obtained from multiple sources; the three national credit bureaus; voter registration lists and various other forms that consumers voluntarily submit. Because this information is "supplied" its' original source is unknown and is not verifiable, therefore it is not eligible to be used as a reason to deny employment based on inconsistent results. To further complicate matters, because the source of the data is unknown there is no way to correct the errors found on the SSN Trace Report.
HireSafe is proud to be an official provider of the SSN fraud solution; the Consent Based Social Security Number Verification (CBSV).
The CBSV program grants HireSafe the ability to access information directly from the U.S. Social Security Administration (SSA) during the pre-employment background screening process to verify the SSN being presented. This identification breakthrough in accuracy, reliability and accountability in performing due diligence for employers is an effective pre-employment tool, unlike E-Verify which is only for new employees once they are on the payroll.
The benefits of the CBSV service are numerous:
1. Direct access to the SSA Master File and Death Index
2. Instant, online verification of five personal identifiers: name, SSN, DOB, gender and death indicator
3. 100% accurate results when personal identifiers are input correctly
4. Unsurpassed SSN verification – a "Triple Play" for financial institutions: New customer account applications, Loan originations, and Pre-employment of new hires and even post-employment if desired.
5. Premier compliance component for internal, state and federal requirements (including FTC Red Flags Rule, Fannie Mae Loan Quality Initiative, Dodd-Frank Wall Street Reform and Consumer Protection Act, etc.)
6. Uncover fraud and ID theft – stop synthetic name fraud, reduce bad hires, avoid loan losses and net charge-offs
7. Superior verification for "SSN Randomization"
The CBSV program is a viable solution to the decades-old problem that has plagued employers, businesses and applicants alike. Many young people entering the workforce are especially at risk of fraud from having their SSN hijacked while they were infants, often by their own undocumented family members. CBSV eliminates SSN fraud so employers can be confident that the pre-employment background screening process is based upon verified identification.
HireSafe is proud to add this strong tool to their ever growing array of Human Resources solutions. The HireSafe ideology is to provide every client with a more secure, efficient and effective workforce through documented and factual information. With the HireSafe platform, an employer becomes enabled to make an informed hiring decision based upon facts in order to be assured that their candidates are not miss-representing themselves.
HireSafe is one of the nation's highest ranked background screening companies, rated A+ by the Better Business Bureau. In business since 1997, HireSafe is a full-line provider of Human Resource Solutions, including Employment Background Screening, Drug Testing, Form I-9 Document Management with E-Verify and Applicant Tracking including Social Network Recruiting. As a CA licensed Private Investigative Agency (#25313), HireSafe provides only responsible, professional and FCRA compliant reports to their clients.