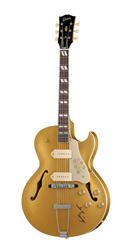 Memphis, TN (PRWEB) August 01, 2013
Scotty Moore is the lone survivor of the trio that merged country music with rhythm and blues, creating what disc jockey Alan Freed dubbed "Rock and Roll." To honor one of world's greatest guitarists, Gibson Brands is hosting a Scotty Moore Tribute at its Memphis Showroom on August 3 to coincide with the launch of Gibson's new Scotty Moore Signature gold ES-295 guitar, and the publication of Scotty's memoir Scotty and Elvis: Aboard the Mystery Train.
This history-making event will feature performances by legendary musicians such as Sun Records artists Sonny Burgess and the Pacers, Tracy Nelson, Billy Swann, Carl Mann, Thom Bresh, Bucky Burnett, and DJ Fontana, who was Elvis' drummer for 14 years. There hasn't been a lineup like this in half a century.
In his memoir (published by the University of Mississippi Press), Scotty recalls how it all began—with an unknown teenager named Elvis Presley and bass player Bill Black, who entered Sam Phillips's Memphis-based Sun Records studio to record an old blues tune, "That's All Right, Mama."
But Scotty decided to add a unique, rocking rhythm, propelled by his driving yet lyrical guitar stylings. The record became Elvis's first single, and cemented the relationship between Scotty and Elvis that helped create a new genre of music.
They not only transformed the way popular music sounded, but how it was played by the thousands of rock and roll artists who followed—and in the process, helped tear down the racial divide between two uniquely American forms of music.
About the Gibson Scotty Moore ES-295 Guitar
The limited edition Scotty Moore ES-295 is an exact replica of the 1952 ES-295 purchased new by Scotty in 1953. The guitar's Bullion Gold, nitrocellulose lacquer finish is created by hand-mixing the same bronze powder that Gibson used on Scotty's guitar 61 years ago. It also replicates the unique gold floral pattern silkscreened on the pickguard against an ivory colored background, and features the same comfortable mid-size neck shape topped with a dark, 19-fret Rosewood fingerboard and aged cellulose split trapezoid inlays. A fitting tribute to a ground-breaking musical pioneer, the ES-295 is a collector's and player's dream come true.
About Gibson Brands
Gibson Brands, one the fastest-growing companies in the Music and Sound industries, was founded in 1894 and is headquartered in Nashville, Tennessee. Gibson Brands is a global leader in musical instruments, consumer audio, and professional audio, and is dedicated to bringing the finest experiences by offering exceptional products with world-recognized brands. Gibson has a portfolio of over a hundred well-recognized brand names starting with the number one guitar brand, Gibson. Other brands include: Epiphone, Dobro, Valley Arts, Kramer, Steinberger, Tobias, Slingerland, Maestro, Baldwin, Hamilton, Chickering and Wurlitzer. Audio brands include: KRK Systems, TASCAM, Cerwin-Vega, Stanton, Onkyo, Integra, TEAC, TASCAM and Esoteric. All Gibson Brands are dedicated to Innovation, Prestige and improving the Quality of Life of our customers.