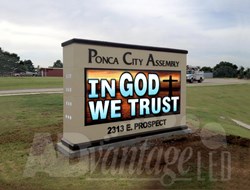 The ease of operation impressed everyone involved with the project.
Houston, TX (PRWEB) August 01, 2013
ADvantage LED Signs proudly announces the completion of the Ponca City Assembly Church sign in Ponca City, Oklahoma. This new 4'-2 1/4" x 10'-1 1/8" 12.5mm iPixel full color 96x240 iMatrix Double Face Display sign increases traffic and exposure for the church displaying special events and service times along with public announcements for the community of Ponca City.
"Pastor Micah Wells of Ponca City Assembly Church loves the new sign and is very pleased with the work done by ADvantage LED Signs," Richard James of ADvantage LED Signs declared.
Pastor Micah Wells of Ponca City Assembly church praised the sign in many ways. "Everything is great as the sign provides curbside appeal and fits perfectly with the existing building, blending in seamlessly while providing the information parishioners and community members want and need. Thanks to this sign, the local newspaper featured the church in an article, bringing more exposure to what the church has to offer. Church members continue to be very pleased with the finished product."
Pastor Wells continues, "The ease of operation impressed everyone involved with the project, including the programming of the LED display. Thanks to the SM Infinity™ software, staff members find it easy to upload a wide range of images and videos to the sign and have yet to encounter one they have been unable to use. Programs in the Adobe Suite provide staff members with the ability to design content promoting the church and community events hosted by the congregation. The Church LED Sign benefits Ponca City Assembly Church in a wide variety of ways."
ADvantage LED Signs works with businesses and organizations of all sizes to create a sign which meets the particular needs of the entity. Choices offered include monument sign manufacturing, LED sign manufacturing, and complete installation of the finished product.
"To ensure customers benefit fully from the sign, ADvantage LED Signs provides content creation services, comprehensive software training, and technical support. The goal remains to assist customers in achieving the maximum return on their investment when purchasing a sign from our company. The services offered allow us to do exactly this," Richard James of ADvantage LED Signs stated.
About ADvantage LED Signs:
Established in 2009, ADvantage LED Signs manufactures LED signs and billboards, selling direct to organizations and businesses nationwide. ADvantage LED Signs offers total turn-key solutions, stating that no job is too big or too small for their company. An A+ Better Business Bureau accredited company, ADvantage LED Signs has become known for their expertise and quality, unmatched by others in the industry. Signs provided include restaurant, retail, medical office, car wash, government and more, both in full and single color.