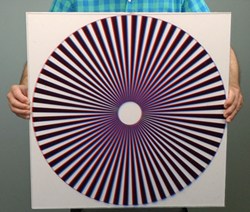 (PRWEB) August 02, 2013
If you've ever wondered how sound works in rooms (and what you can do about it), here's your video - "How Sound Works (In Rooms)", released by Acoustic Geometry, is an exploration of room acoustics and treatments. Using Nerf Disc guns, 1130 feet of fluorescent green string, and Moiré patterns, this 3:33 video explains sound in rooms simply and quickly. Everyone from professional musicians and recording engineers to stereo and home theater enthusiasts to the acoustically curious will likely find something new and interesting.
Acoustic Geometry is a new brand (established in 2011) from industry-leading Acoustical Surfaces, Inc. (ASI) of Chaska MN., established over 30 years ago to offer products and services to the trades. As the retail face of ASI, Acoustic Geometry offers easy-to-use room treatment and soundproofing products for anyone who needs room-sound solutions, and AcoGeo videos on acoustics can be seen on the YouTube Channel (http://www.youtube.com/user/AcousticGeometry). Visit http://www.AcousticGeometry.com for more information.