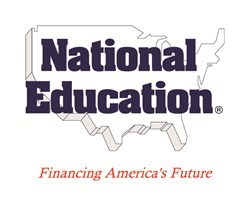 "Our intent is to make the loan application process as easy as possible for the student and the school while maintaining full compliance with regulations," says Justine Gianandrea
Chicago, IL (PRWEB) August 02, 2013
Continuing its quest to offer the highest level of service in higher education finance, National Education is pleased to announce its newly updated originations platform. In addition to built-in compliance for today's disclosure regulations, we've also included full modularity to ensure our system remains flexible. This is a critical feature as Congress and the CFPB continue to focus on consumer protection regulations.
National Education's loan origination platform, completely paperless and 100% online, allows borrowers to request and receive approval for a loan in as little as ten minutes. This is accomplished while maintaining 100% compliance with current consumer disclosure regulations, freeing our lending partners from administrative burden and compliance risk.
"Our intent is to make the loan application process as easy as possible for the student and the school while maintaining full compliance with regulations," says Justine Gianandrea, Senior Vice President of National Education.
Giving lenders the confidence needed to realize their revenue goals, our student loan originations platform was built to maintain the flexibility required in an ever-changing regulatory environment.
National Education, established in 1988, is a financial solution company sharply focused on developing, marketing, originating and servicing education financial products. National Education has received the "Exceptional Performer" designation from the U.S. Department of Education.
For more information, contact:
Matt Scotty at 800.345.4325 ext 5173, President, National Education Servicing
Justine Gianandrea at 800.345.4325 ext 5324, Senior Vice President, National Education Servicing
Ken Bogacki at 800.345.4325 ext 5509, Vice President, National Education Servicing