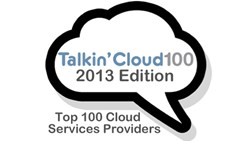 Being recognized annually by Talkin' Cloud on this exclusive list is an honor.
Philadelphia, PA (PRWEB) August 01, 2013
Excel Micro, Incorporated ranks among the world's Top 100 Cloud Service Providers (CSPs), according to Nine Lives Media's third-annual Talkin' Cloud 100 report. The Top 100 CSPs generated more than $15.7 billion in combined cloud services revenues in 2012, up nearly 37 percent, according to the report, which is available now by visiting http://www.talkincloud.com/tc100.
In addition to honoring Excel Micro, this year's Talkin' Cloud 100 report profiles:

Cloud Services Providers: CSPs offer SaaS (software as a service), infrastructure as a service (IaaS) and/or PaaS (platform as a service) to partners/customers.
Cloud Services Brokerages: CSBs, or cloud brokers, recommend and resell multiple cloud services to customers, and often integrate those services.
Cloud Services Aggregators: CSAs, or cloud aggregators, typically offer a portal that allows VARs and MSPs to source multiple third-party cloud services for customers.
MSPs (Managed Service Providers) with cloud services expertise: MSPs proactively monitor and manage customers' on-premises and cloud-based systems.
VARs (value-added resellers) with cloud services expertise: VARs offer a range of IT consulting, deployment, integration and management services to customers.
"Being recognized annually by Talkin' Cloud on this exclusive list is an honor," said Joseph Vaccone, President and CEO, Excel Micro, Inc. "Our continued growth would not be possible without the commitment of our partners, vendors, and our dedicated staff."
The Talkin' Cloud 100 report is based on data from Talkin' Cloud's online survey, conducted January through May 2013. The Talkin' Cloud 100 report recognizes top cloud service providers based on such metrics as annual cloud services revenue growth (both in actual dollars and in percentage growth rates).
"Nine Lives Media and Talkin' Cloud congratulate Excel Micro," said Amy Katz, president of Nine Lives Media, a division of Penton. "The Talkin' Cloud 100 honor arrives amid a land grab in the cloud computing market. And the Talkin' Cloud 100 companies are leading that land grab."
Talkin' Cloud, produced by Nine Lives Media, is the go-to resource for CSPs, VARs and MSPs profiting from cloud computing. Talkin' Cloud features a daily blog, research, Channel Expert Hour Webcasts and FastChat videos. It is the first online media destination for channel partners working in the cloud.
About Excel Micro, Inc.
Founded in 1991, Excel Micro is considered one of the industry's premier distributors partnering with leading providers of best-of-breed cloud security. Excel Micro eliminates the need for resellers to have multiple contracts and relationships with providers such as McAfee®, Symantec™, and Google™, by giving valued partners the ability to self-provision these solutions along with multiple other market leaders, under one Universal Service Agreement.
The company's in-house Development team is constantly improving on the overall experience and process of managing accounts for their partners. Excel Micro's goal is not just to provide licensing, but a holistic reseller program with additional value added services such as migration tools, marketing collateral, and superior technical support, from headquarters based outside of Philadelphia, PA. Excel Micro offers an experience unlike any other distributor. For more information on the rewarding partner program call 877-466-7726.
About Nine Lives Media
Nine Lives Media, a division of Penton (http://www.penton.com), defines emerging IT markets and disrupts established IT markets. The company's IT channel-centric online communities include MSPmentor (http://www.MSPmentor.net), The VAR Guy (http://www.TheVARguy.com) and Talkin' Cloud (http://www.TalkinCloud.com).
About Penton
For millions of business owners and decision-makers, Penton makes the difference every day. We engage our professional users by providing actionable ideas and insights, data and workflow tools, community and networking, both in person and virtually, all with deep relevance to their specific industries. We then activate this engagement by connecting users with tens of thousands of targeted providers of products and services to help drive business growth. Learn more about our company at http://www.penton.com.
Penton is a privately held company owned by MidOcean Partners and U.S. Equity Partners II, an investment fund sponsored by Wasserstein & Co., LP.
Contacts:
Michael Amadio, Director of Marketing
877-466-7726 ext. 6320 or mamadio(at)excelmicro(dot)com
Nine Lives Media:
Joe Panettieri, Editorial Director
212-204-4206 or joe.panettieri(at)penton(dot)com