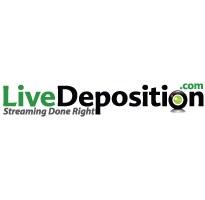 LiveDeposition.com is a robust product that has been put into a user-oriented platform, making it seamless for our clients.
Los Angeles, CA (PRWEB) August 01, 2013
LiveDeposition.com, a leading provider of local and web-based deposition streaming and video conferencing solutions has announced today the addition of one of their newest clients, Alpha Reporting Corporation.
Alpha Reporting Corporation has signed on with LiveDeposition.com to offer their clients in the legal industry a simpler way to remotely participate in realtime depositions. Headquartered in Memphis, Tennessee with offices in Jackson, Nashville, TN and Tupelo, MS, Alpha Reporting has been in the business of court reporting for over thirty-eight years. As one of the oldest firms in the Memphis area, they are also one of the most technologically advanced. In fact, if you visit their website you will see the motto "1st in Reporting, 1st in Service and 1st in Technology" displayed in bold letters at the top of the page.
Alpha Reporting has consistently been a leader in setting the standard for today's reporting industry and that's why adding LiveDeposition.com to their suite of technology services was so important. When asked what attracted them to LiveDeposition.com and how their clients will benefit from using such an innovative product, Kathy May, President/CEO of Alpha Reporting Corporation stated, "LiveDeposition.com allows our clients to have access to a deposition's real-time, audio, video, and text feed, all from one streamlined product, whether on a PC, Mac, iPhone, iPad or Android device. It also allows file sharing through the service itself without any downloads, making the process of showing documents very user-friendly. LiveDeposition.com is a robust product that has been put into a user-oriented platform, making it seamless for our clients."
As a completely web-based solution, LiveDeposition.com gives legal teams the tools they need to participate in realtime depositions from any location and without the hassle of downloading or installing software. With LiveDeposition.com, video can be streamed using any conventional webcam, making connections instant, simple and powerful.
About LiveDeposition.com
Headquartered in Sherman Oaks, CA, LiveDeposition.com is powered by MegaMeeting.com; a long-time resident of the video and web conferencing industry. Through their cutting-edge technology, LiveDeposition.com provides the Legal Industry with local web-based deposition and video conferencing solutions. Being exempt from typical download and installation requirements, LiveDeposition.com has proved itself to be a hassle-free way to stay connected, allowing court reporting agencies, court reporters, paralegals, industry experts and legal teams to streamline the litigation process and conduct real-time depositions and online meetings. LiveDeposition.com works with all internet browsers and offers mobile apps for iOS and Android users, making its state-of-the-art solutions easily accessible via PC's, Mac's, iPhones, iPads, as well as all Android-enabled tablets and smartphones.
For more information on LiveDeposition.com please visit http://www.livedeposition.com or call 888.337.6411