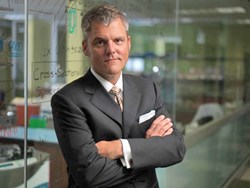 Bethlehem, PA (PRWEB) August 01, 2013
TB Biosciences, Inc., an early stage medical diagnostics company located in Bethlehem, PA, announced that David C. Oxley has been named to TB Biosciences' Board of Directors.
Mr. Oxley currently serves as Vice President of Emerging Markets Sales for Cytori Therapeutics, a public company engaged in the development, manufacture, and sale of medical technologies to enable the practice of regenerative medicine. Mr. Oxley's responsibilities include establishing Cytori subsidiaries and commercial sales and distribution activities across Latin America, Africa, India, Thailand, Malaysia, Australia and New Zealand.
Prior to Cytori, Mr. Oxley served as Executive Vice President of Worldwide Sales & Marketing for the Point-of-Care Division for Trinity Biotech plc, a public company specializing in the development, manufacture and marketing of clinical diagnostic products.
Prior to his service at Trinity Biotech, Mr. Oxley served as head of government affairs at OraSure Technologies. During his service at OraSure, Mr. Oxley secured multiple bulk purchase agreements from the U.S. Department of Health and Human Services, secured World Health Organization approval of OraQuick, and secured inclusion of OraQuick on the President's Emergency Plan for AIDS Relief bulk procurement list. Prior still, Mr. Oxley had a combined twelve years in leadership positions, including healthcare investment banking, healthcare advocacy and lobbying for a Washington, D.C. law firm, and healthcare policy work for a member of the United States House of Representatives.
In concert with his corporate experiences, Mr. Oxley served in professional and not-for-profit entities including delegate of the Private Sector Delegation to the Board of the Global Fund to Fight HIV, TB & Malaria, and outside director on the Board of the Children's AIDS Fund.
Mr. Oxley earned a BS in History from Portland State University in Oregon and an MS in Government from Johns Hopkins University in Maryland.
"We are extremely pleased to have David join the TB Biosciences' board," said Sam Niedbala, Ph.D., CEO and co-founder of TB Biosciences. "As the Company works to develop a rapid point-of-care tuberculosis test that meets performance standards around the world, we are confident that David's expertise and experience in developing and commercializing point-of-care diagnostic tests will be a valuable addition to our board,"
In addition to Mr. Oxley, TB Biosciences' board of directors consist of Dr. Niedbala and Mike Gausling, Managing Partner with Originate Ventures, a venture capital investment firm.
About TB Biosciences
TB Biosciences, Inc. is an early stage development medical diagnostics company founded in June 2013 to develop a rapid point-of-care tuberculosis test that meets performance standards around the world. The goal of TB Biosciences is to commercialize a simple to operate and use tuberculosis test that replaces the 125 year old sputum smear test. The Company is using an array of patented peptides developed and exclusively licensed from the NYU School of Medicine. To learn more, visit http://www.TBBiosciences.com.