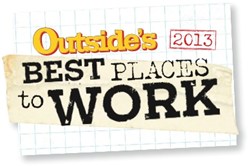 "Our staff is incredibly passionate about transitioning the energy system to efficiency and renewables and that passion translates into everything we do."

-Amory Lovins
Snowmass, Colo. (PRWEB) August 01, 2013
Rocky Mountain Institute (RMI) today was named to Outside Magazine's sixth annual "Best Places to Work" list. Rocky Mountain Institute was ranked No. 77 out of 100 selected companies. The full list of the top-ten-performing small, medium, and large companies is published online at OutsideOnline.com/bestplacestowork.
Outside's "Best Places to Work" project celebrates the innovative companies setting a new standard for a healthy work-life balance. The list was compiled with the help of the Outdoor Industry Association and Best Companies Group. The year-long selection process began with an outreach effort that identified a wide range of nonprofit and for-profit organizations with at least 15 employees working in an office in the United States. Participating companies were sent confidential employee-satisfaction surveys and employer-questionnaires to collect information about benefits, compensation, policies, job satisfaction, environmental initiatives, and community outreach programs. The experts at the Best Companies Group then analyzed the results and selected the companies that best enable employees to pursue active lifestyles while also supporting their social and environmental contributions.
This year's "Best Places To Work" list will highlight not only the Top 100 companies, but will also spotlight those on the list that offer the best perks, including "Fitness-Friendly" companies, those with the most liberal "Flex Time" policies, the "Best Travel Perks," and those with the "Best Office Culture."
"Every day, RMI employees boldly and persistently tackle the toughest energy challenges that confront the world," said RMI Co-founder and Chief Scientist Amory Lovins. "Our staff is incredibly passionate about transitioning the energy system from waste to advanced efficiency and from fossil fuels to renewables. That passion translates into everything we do—both inside and outside the office."
"We're proud to publicize the efforts of these 100 companies," said Outside editor Christopher Keyes. "They each show a real commitment to creating active, healthy work environments and put a premium on innovative benefits. Year after year, Outside's Best Places to Work program demonstrates that America's most successful companies are the ones that consistently promote true work-life balance for their employees."
RMI is an independent, non-profit "think-and-do tank" with a 30-year history of working to advance market-based solutions to transform global energy use. We engage businesses, communities and institutions to cost-effectively shift to efficiency and renewables and create a clean, prosperous and secure energy future.
In 2011, RMI released Reinventing Fire: Bold Business Solutions for the New Energy Era, a roadmap for the business-led transition to a more competitive U.S. economy needing no oil, no coal, and one-third less natural gas by 2050. To foster this transition, RMI is collaborating with key partners to implement strategic change across the four energy-intensive sectors of our economy—transportation, buildings, industry, and electricity:

Transportation – Driving the transition to an oil-free U.S. transportation system through the integration of lightweight carbon fiber composites that at least triple fuel efficiency and enable the cost-effective electrification of powertrains.
Buildings – Accelerating the widespread adoption of deep energy efficiency retrofits that save at least 50 percent of energy over current usage in existing U.S. commercial buildings.
Industry – Helping industrial manufacturing companies transform their overall energy strategy to achieve radical efficiency, often at lower cost.
Electricity – Collaborating with key change agents across the electricity industry to overcome critical institutional, regulatory, business, and technological barriers to the economic deployment of distributed and renewable energy resources in the U.S. electricity sector.
RMI's collaborative culture extends beyond working with major players and partners in the energy sector to its staff and offices. RMI's two vibrant office locations in Boulder and Snowmass, Colorado—communities with close access to the state's mountains, rivers and open spaces—foster an extended appreciation and passion for the natural environment that the organization's work seeks to preserve.
"Our work requires innovative systemic thinking that questions business-as-usual and challenges conventional assumptions. Our staff members embody these approaches in everything they do—from their professional cutting-edge research and transformational solutions for how energy is used and produced to their personal environmental stewardship and outdoor pursuits," said RMI Executive Director Marty Pickett. "Being surrounded by nature, both in Boulder and the Roaring Fork Valley of Colorado, provides us with an inspiring outdoor environment in which to balance our professional and personal lives."
RMI looks for passionate people who are ready to push the boundaries of solving the world's toughest energy challenges. To learn more about working at RMI, visit the organization's careers page, rmi.org/careers.
For more information about RMI and how to support its work, visit http://www.rmi.org.
CONTACTS:
Rocky Mountain Institute: Kirsten Carlson / kcarlson(at)rmi(dot)org / 970-927-7804
OUTSIDE MAGAZINE:
Jada Williams/ Jada(at)giantnoise(dot)com / 646.649.4933
###
About RMI
Rocky Mountain Institute is an independent, entrepreneurial, nonprofit think-and-do tank with offices in Snowmass and Boulder, Colorado. RMI emphasizes integrative design, advanced technologies, and mindful markets in fulfilling its mission to drive the efficient and restorative use of resources. RMI's strategic focus is to map and drive the U.S. transition from fossil fuels to efficiency and renewables by 2050. Please visit http://www.rmi.org for more information.
About Outside
Outside is America¹s leading active lifestyle brand. For more than 30 years, Outside has covered travel, sports, adventure, health, and fitness, as well as the personalities, the environment, and the style and culture of the world Outside. The Outside family includes Outside magazine, the only magazine to win three consecutive National Magazine Awards for General Excellence, The Outside Buyer's Guides, Outside Online, Outside Television, Outside Events, Outside+ tablet edition, and Outside Books. Visit usonline and on Facebook.
ABOUT THE BEST COMPANIES GROUP
Best Companies Group works with national and local partners around the country to establish and manage "Best Places to Work," "Best Companies," and "Best Employers" programs on a national, statewide, and regional basis. Through its thorough workplace assessment, utilizing employer questionnaires and employee-satisfaction surveys, BCG identifies and recognizes companies who have been successful in creating and maintaining workplace excellence.
ABOUT THE OUTDOOR INDUSTRY ASSOCIATION
Founded in 1989, Outdoor Industry Association (OIA) is the premier trade association for companies in the active outdoor recreation business. OIA provides trade services for over 4000 manufacturers, distributors, suppliers, sales representatives and retailers in the outdoor industry. Outdoor Industry Association seeks to ensure a healthy and diverse specialty retail and supply chain based on quality, innovation and service. To this end, OIA works diligently to raise the standards of the industry; increase participation in outdoor recreation to strengthen business markets; provide support services to improve member profitability; represent member interests in the legislative/regulatory process; promote professional training and education; support innovation; and offer cost-saving member benefits. Search for outdoor-industry jobs is at OIA's career center:http://www.outdoorindustry.org.