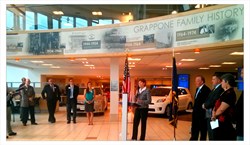 "Energy efficiency is the cheapest fastest way to deal with our energy needs. And New Hampshire, as we can see here, is really a leader in energy efficiency." - Sen. Shaheen
Concord, NH (PRWEB) August 01, 2013
Senator Shaheen visited Grappone Toyota on Monday, July 29 to showcase her new bipartisan energy efficiency bill. Grappone Toyota was selected as a prime location due to their commitment to their environment and newly LEED certified building. Grappone Toyota is 1 of 20 Toyota dealerships in the USA that is LEED Certified.
Shaheen presented the Energy Savings and Industrial Competitiveness Act after she toured the Grappone facility with manager Steve Savoy. She is hoping to bring the bill to the legislation floor, making it the first energy bill since 2007.
Amanda Grappone Osmer took Senator Shaheen around the facility and showed her the company's green information wall that highlights their environmental commitment. The green wall explains LEED certification and also features a touch screen monitor that showcases their real time energy savings. The monitor allows guests to interact with the building floor plans and see actual energy usage. It displays a map of where the energy comes from and how much of it is used throughout the day. This monitor is a learning tool and brings awareness to building energy efficiency.
Grappone opened the LEED certified building in July of 2012. The building has two solar powered electric car charging stations. There are 32 geothermal wells that are 400 feet deep that help cool and heat the building which also help reduce the consumption of natural gas. The LEED building uses 30 percent less water and 36 percent less energy than the previous structure.
Senator Shaheen used the Grappone Toyota building as an example on how New Hampshire is a leader in energy efficiency. She has partnered with Senator Portman from Ohio to help bring this bill to the Senate floor.
The Energy Savings and Industrial Competitiveness Act could introduce energy efficiency into building codes. Senator Shaheen's goal is to establish a national energy strategy. By bringing about this strategy the United States would be able to be save money on fuel and be more self sufficient.
Founded in 1924, Grappone Automotive Group is a family owned and operated dealership in its fourth generation of ownership. For more information please visit http://www.grapponetoyota.com.