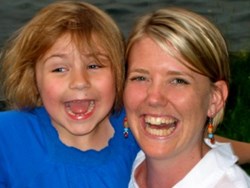 "I am honored to help parents remember
how good it feels to be hopeful – and to see the
relationship they develop with their children
because of that hope," says Carolina Kaiser
Palo Alto, CA (PRWEB) August 01, 2013
Sofia University will host a three day workshop, led by expert autism play therapist Carolina Kaiser. The workshop titled "Teach through Play: A transformative, relationship-based approach to autism treatment" will take place on Friday, August 16, from 10am-6pm, Saturday, August 17, from 10am-6pm, August 18, from 10am-5pm. Kaiser has worked with families for over 12 years, and has therefore seen the power of integrating a variety of approaches to create individualized programs for children across the autism spectrum.
Teach Through Play is an interactive program using a home based child centered approach to autism treatment, where joining a child's repetitious and exclusive activities is the key to powerful growth and connection. This special event is a hands on, playful learning experience that will breakdown the fundamental techniques used to help your child develop. During the workshop, Kaiser will focus on the following fundamentals:

Follow your child's lead to create a more solid foundation for interaction
Celebrate connection to create more open doors for interactive play
Identify your child's motivations and create a fun, play-based curriculum for development
Inspire your child's growth in all areas of social development
Create a powerful learning environment for your child
Help your child use language instead of tantrums, hitting and kicking
Explore ways to create a supportive, hopeful, positive attitudewhile working with your child
Get your specific questions answered
All fees associated with the event are as follows:
General-$400.00-$750.00
Mental Health Pros- $750.00
Workshop offers 16 CEUs: $35.00 additional fee
Workshop attendees are required to wear comfortable clothing. Refreshments will be provided; however, bringing lunch is strongly encouraged. All Interested parties must RSVP no later than August 13, 2013.
For more information and event registration please visit: http://teachthroughplay.com/events
About Sofia University
Founded in 1975, Sofia University (formerly the Institute of Transpersonal Psychology) is a private, non-sectarian university accredited by the Western Association of Schools and Colleges. For over 35 years, within the context of scholarship and research, the school has offered transformative education for the whole person, probing the mind, body, spirit connection. As Sofia University, the school is broadening its mission, reaching into multiple disciplines and adding undergraduate study. For more information, visit http://www.sofia.edu.
For media inquiries please contact:
Tia Jackson
Communications Specialist
Sofia University
P│650.493.4430 │ext 249
E│tia(dot)jackson(at)sofia(dot)edu
Additional Contact:
Michele Robbins
Email: michele(at)yesworld(dot)org
Telephone: 831-465-1081.