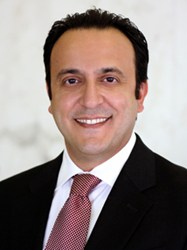 My practice is founded on the principle of providing personalized patient care.
Beverly Hills, CA (PRWEB) August 01, 2013
Maurice Elihu, MD, a Los Angeles gastroenterologist, has received the annual Vitals' Top Ten Doctors award. This achievement is based on the reviews and ratings of millions of patients about local doctors, and factors in each doctor's knowledge, quality of care, efficiency of practice and bedside manner.
"This is a wonderful honor, and I am deeply grateful to my patients for their positive reviews," said Dr. Elihu. "The satisfaction of my patients with their experience with me is important, and I plan to continue my practice with this in mind."
Patients in the U.S. trust Vitals as their source for making informed health choices, and rely on Vitals to help them select the best health facility or doctor for them. Vitals provides trusted relationships between patients and doctors through thorough patient ratings and reviews, aiding in the improvement of overall health care.
Each doctor who receives the Top Ten Doctors award has maintained consistent top ratings from patients, and Dr. Elihu has been recognized for his expertise in diagnosing and treating digestive orders, with special emphasis on the prevention of colorectal, stomach and esophageal cancers.
Selecting a surgeon, physician or other doctor is an important decision process for patients, and can sometimes seem like an unclear path. Vitals provides powerful resources about doctors for patients, helping to simplify the selection process and enable patients to make the right health care choices.
"My practice is founded on the principle of providing personalized patient care," said Dr. Elihu. "Every patient's condition or situation is unique, and must be diagnosed and treated as such."
Maurice Elihu, MD is a board-certified gastroenterologist that specializes in the comprehensive evaluation of digestive disorders with emphasis on prevention of colorectal, esophageal, and stomach cancers. After completion of seven years of extensive postgraduate training in New York, Dr. Elihu returned to Los Angeles to better serve the community where he grew up. He is also an active member of American College of Gastroenterology & Southern California Society of Gastroenterology as well as a Diplomate of the American Board of Internal Medicine and American Board of Gastroenterology. Dr. Elihu has received numerous awards for his expertise in patient care and research, and he is a lecturer and speaker at national, international and scientific conferences.
La Peer Health Systems is an outpatient surgery center in Beverly Hills, founded by doctors and focused on providing excellent patient care alongside the most cutting-edge medical treatments available. With 50 world-renowned physicians in 14 specialties, comprehensive medical treatment is offered that takes patients from consultation to diagnosis, treatment, surgery, and ultimately aftercare. The 14 medical departments include orthopedics & sports medicine, gastroenterology, head & neck surgery, colorectal & general surgery, podiatry, ophthalmology, pain management, plastics & reconstructive surgery, gynecology, spine surgery, interventional cardiology, bariatric surgery, thoracic surgery, and anesthesiology. Unlike large hospitals, La Peer's unique structure offers extremely personal care in a safe and controlled environment.
To learn more about La Peer Health Systems, visit http://www.lapeerhealth.com.