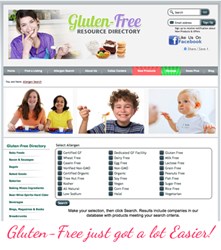 The Gluten-Free Resource Directory makes it easier to find gluten and allergen free foods
Delray Beach, FL (PRWEB) August 01, 2013
The Gluten-Free Resource Directory adds a new "search feature" which gives consumers a quick and easy way to find companies that provide products meeting the consumer's specific requirements. "We've been asked by our readers to provide an easy way for them to find companies with products that are of course, gluten-free, but we now also provide the ability to search based upon all of the most common food allergens… and we went even further by providing search capabilities for companies that have obtained independent certifications - Gluten-Free, Kosher, Organic, Vegan, GMO Free, as well as others. It's as easy as clicking a box," said Scott R. Yablon CEO, Directory Media Group publisher of the Gluten-Free Resource Directory.
"It's hard to believe the Gluten-Free Resource Directory could improve upon the extensive collection of gluten-free foods, products and services maintained there, but that's exactly what they've done with the new Allergen Search feature! Now, with a few simple clicks, visitors are able to select very specific criteria for a customized search experience, further streamlining the quest for gluten-free, allergen-free goods. And with so many of us who live gluten-free having multiple food allergies and intolerances, gluten-free just got a lot easier!" commented Gluten-Free Living Expert, Gigi Stewart, M.A.
About Directory Media Group (DMG) and The Gluten-Free Resource Directory: DMG publishes On-Line Resource Directories. The Gluten-Free Resource Directory is a trusted one-stop resource for all things gluten-free. From gluten-free foods, beverages, products and services to doctors and Celiac Centers, the Gluten-Free Resource Directory provides timely and relevant information for anyone interested in a gluten-free life style. The Gluten-Free Resource Directory is also available via the National Foundation for Celiac Awareness (NFCA) website and Directory Media Group provides the Celiac Sprue Association (CSA) its own branded version of the Directory known as the Celiac Sprue Resource Directory.
For more information about the Gluten-Free Resource Directory and Directory Media Group call Jody Yablon, 561.450.8608 or email jody(at)TheGFRD(dot)com.
###