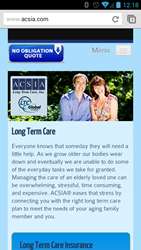 Fort Myers, Florida (PRWEB) August 01, 2013
ACSIA Long Term Care Inc., a leader in marketing and distributing Long Term Care insurance and in providing education on Long Term Care planning, is proud to announce our ACSIA.com website is now available on mobile devices.
ACSIA adapted its website design and structure to effectively communicate information on the different aspects of Long Term Care ensuring that features and services are displayed optimally on desktops and mobile devices. ACSIA.com provides a comprehensive resource for LTC, from general overview to specifics. Users can also request free, no-obligation LTC insurance quotes from major insurance carriers.
Current figures show that society is going mobile, especially in web browsing. In 2009, data from Star Counter Global Stats show that mobile web browsing only accounted for 1% of Internet traffic. The following year, it has increased to 4%. In November 2012, however, it has shown significant growth by constituting 13% of internet traffic. Meanwhile, mobile phone users around the globe are at 5 billion, 1 billion of which are smart phone users, as reported by Morgan Stanley. Furthermore, 28% of American adults have a tablet device of their own1, as per the data gathered by the Pew Research Center (1). At the rate that this is going, Cisco estimates that mobile devices will account for more than 50% of internet traffic by 2017, surpassing traditional wired devices such as desktop computers in traffic rates (2).
Data from the US Department of Health and Human Services show that 7 out of 10 of individuals at the age of 65 will require Long Term Care (3). As most would look forward to a fruitful retirement, planning for this need is essential. ACSIA can aid its users in this endeavor by connecting them with insurance specialists who can assist and advise on preparing for LTC.
About ACSIA®
Founded in 1958, ACSIA® is a leading national distributor of Long Term Care insurance. ACSIA® is a member of the LTC Global group of companies and headquartered in Fort Myers, Florida. For more information about ACSIA®, visit http://www.acsia.com.
An exciting opportunity in the Long Term Care Planning industry can begin at http://www.ltcopportunity.com.
Find out why the top specialists in the country are choosing ACSIA and see why we are proud to say, "We're invested in you."
1 Olson, Parmy "5 Eye-Opening Stats That Show The World Is Going Mobile, Forbes, December 4, 2012
2 Cisco Visual Networking Index: Forecast and Methodology, 2012-2017, Cisco, May 29, 2013
3 U.S. Department of Health and Human Services, "The Basics: Who Needs Care?", LongTermCare.gov