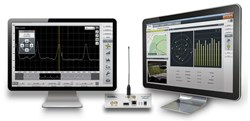 RF Studio for the USRP is the only cost-effective and portable product on the market that offers the flexibility to cover a wide variety of use cases, thus making it a very competitive solution for general-purpose RF record and playback
Austin, Texas (PRWEB) August 01, 2013
Averna, an industry-leading developer of test solutions and services for communications and electronics device-makers worldwide, announced today the availability of RF Studio for National Instruments Software Defined Radio Platform (USRP), converting the USRP into a portable and cost-effective RF system for the recording and playback of real-world GNSS signals.
National Instruments USRP is an affordable, PC-hosted platform used with NI LabVIEW system design software to build powerful wireless communications systems for research and education. RF Studio is Averna's proprietary software platform designed to streamline work with real-world RF signals. It provides user-friendly modules for capturing, processing, analyzing, archiving and playing back RF spectrum while also maintaining the signal-recording context.
Working together, Averna and National Instruments teams developed RF Studio for the USRP, an innovative and portable solution to record and play back live RF environments to accelerate RF project work. RF Studio's LabVIEW compatible plug-in support delivers great value to LabVIEW users as it gives them quick access to a rich toolset for their in-house applications, and supports additional capture sources and customized views.
"RF Studio for the USRP is the only cost-effective and portable product on the market that offers the flexibility to cover a wide variety of use cases, thus making it a very competitive solution for general-purpose RF record and playback," commented Brendan Wolfe, Director of Market Development for Averna. "We've been working very closely with the NI teams to bring this innovative solution to market, and we expect great success from this solution partnership."
RF Studio for the USRP features:

Record and play back real-world RF signals, up to 40 MHz wide
Capture actual RF spectrum like FM, DAB, GPS, GLONASS, and cellular
Visualize and record weak signals with the Noise Figure view
Advance signal analysis with the Spectrum, Histogram, and Power views
Use simple RF-chain configuration tools to quickly detect and set up the recording environment
DriveView option: Log video, audio and NMEA data at the same time as recording RF
Click here for more information about RF Studio for the USRP.
"The combination of RF Studio and the USRP provides a flexible, affordable solution for RF record and playback. Now in addition to prototyping wireless communications systems in LabVIEW, users can test them by reproducing realistic RF environments in the lab," said Erik Luther, Wireless Communications Group Manager for National Instruments.
Pricing and Availability
RF Studio for the USRP is available now to customers worldwide through National Instruments' LabVIEW Tools Network. Contact us at sales(at)averna(dot)com for complete details.
Averna at NIWeek 2013, August 5-8 in Austin, TX
Averna will be showcasing RF Studio and RF Studio for the USRP during NIWeek 2013 in booth 301/307. Please contact sales@averna.com to set up a private demo.
Averna is a finalist for the 2013 NI Alliance Partner of the Year Award and RF Studio is a finalist for the 2013 LabVIEW Tools Network Award. The winners will be announced during Alliance Day on August 5.
Click to Tweet: @Avernatech: Averna and National Instruments Team up to Offer a Cost-Effective Solution for Recording and Playback of RF Signals http://bit.ly/162Qs8R.
About Averna
Averna is a premier manufacturing solution provider for communications and electronics device-makers worldwide, helping them deliver a better end-user customer experience. Key Averna clients in the communications, aerospace, defense, automotive, consumer electronics, and medical device industries use Proligent, RF Test Instruments, and other test solutions to accelerate product development, reduce manufacturing costs, achieve superior quality throughout the lifecycle, and solve critical supply-chain issues.
Averna has offices and sales partners around the world. Incorporated in 1999, Averna is a Best in Test award winner, an Ernst & Young Entrepreneur of the Year® recipient, and has been honored as one of the Deloitte Fast 500 fastest-growing technology companies in North America.
© Copyright 2013 Averna. All rights reserved. Information subject to change without notice.
Averna, RF Studio, and DriveView are trademarks of Averna Technologies.
National Instruments, NI, LabVIEW, and USRP are trademarks of National Instruments.