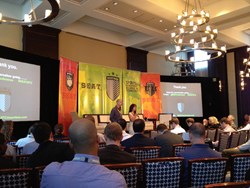 SOLiD is advancing thought leadership on enabling Cellular, Wi-Fi and Public-Safety communications in stadiums
Sunnyvale, CA (PRWEB) August 01, 2013
SOLiD, a publicly-traded global communications solutions innovator, announced today that the Company will return to the Sports and Entertainment Alliance in Technology (S.E.A.T.) Conference as a Gold Sponsor and its President, Seth Buechley, will present as a panel expert on current and next-generation wireless networks for supporting Cellular, Wi-Fi and Public-Safety communications in large venues. The Company has also sponsored the forthcoming inaugural "State of the Stadium" Technology Survey, a joint effort between SEAT and Mobile Sports Report (MSR), which provides insight to how teams are deploying technology - including wireless - to both improve the fan experience while helping to increase business opportunities.
A thought leader within the wireless communications industry, SOLiD has deployed its innovative Distributed Antenna System (DAS) and carrier-grade, enterprise-ready Optical Network solutions at some of the most highly-visible and best-known sports venues in the world that host international, professional and college sports events. Mr. Buechley will leverage SOLiD's experience within this uniquely challenging market during the "DAS & the Next Generation of High-Density Networks" panel to share insights and strategies for sports venues seeking solutions for three seemingly incongruous wireless needs: Cellular, Wi-Fi and Public-Safety.
"The sports venue wireless communications environment is particularly challenging and will be exacerbated over time. In North America, iGR expects that by 2017 the consumption of mobile data per month will increase more than six times over its level in 2012," said Iain Gillott, president of iGR, a telecom market strategy consultancy. "Stadiums draw tens of thousands of wireless users into concentrated areas where uploading videos and consuming bandwidth-intensive content such as fantasy sports sites requires a scalable 'tool kit' approach to meet capacity and coverage requirements for today and the foreseeable future."
To further learning and advancement in the understanding and deployments of stadium technology, SOLiD has sponsored the inaugural "State of the Stadium" Technology Survey. The report, to be released at the conference, provides insight via survey responses from stadium IT managers for technology deployments – including DAS and Wi-Fi – at large sporting and entertainment facilities.
"The 'State of the Stadium' Technology Survey provides a useful starting point for discussions about first steps, next steps, and lessons learned along the path of venue technology deployments," said Paul Kapustka, Editor in Chief of Mobile Sports Report. "The survey identifies advanced technology roadmaps and explores actual rollout schedules, budgetary and technology constraints, and stakeholder partnership concerns and opportunities. As an industry observer of the intersection of sports, mobile technology and social media, we expect the survey to help empower companies such as our sponsor, SOLiD, to continue to innovate as the era of the connected fan and the connected stadium arrives."
"Sports and entertainment venues pose a unique opportunity for wireless industry thought leaders to develop technology solutions that are flexible and scalable to accommodate current and future needs for enabling the ultimate game day fan experience and also ensuring public-safety," said SOLiD's Mr. Buechley. "As a sponsor of the initiatives of SEAT and Mobile Sports Report, we look forward to engaging with the industry stakeholders to explore strategies for planning, financing, deploying and managing Cellular, Wi-Fi and Public-Safety communications at these venues."
Event Information
Title: "DAS & the Next Generation of High-Density Networks"
Date: 8/5/2013
Time: 1:30 PM–2:30 PM
Location: Sheraton Kansas City at Crown Center – New York Ballroom
For a more information, please contact SOLiD.
About SOLiD
SOLiD (http://www.solid.com) empowers capacity and coverage for Cellular, Wi-Fi and Public-Safety services at large venues and campuses through innovative Distributed Antenna System (DAS) and carrier-grade Optical Network solutions for Small Cell Backhaul and Passive Optical LAN (POL) deployments. The company is grounded by a shared vision of advancing technology to solve wireless industry problems in new ways, and supporting our customers and partners with world-class service. SOLiD counts among its global customers major wireless operators; leading hospitals; Olympic, professional, and college sports venues; metropolitan subways; government and Fortune 500 corporate campuses; and other marquee customer sites. For further information please email info(at)solid.com or call 888-409-9997.