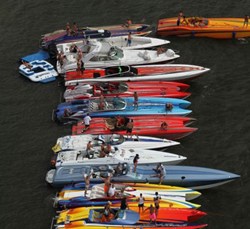 The Emerald Coast Poker Run is one of the largest summer poker runs in the nation
Destin, FL (PRWEB) August 02, 2013
The Emerald Coast Poker Run is one of the largest summer poker runs in the nation. It brings in locals and boaters from around the country to join the course with ten card stops from Destin to Pensacola. It will take off on August 14th at 10am and each stop offers a fun festival event. The run benefits several youth organizations and raises over $150,000 each year. Guests can enjoy a raft-up party at Crab Island on Saturday night and the poker run continues to Sunday, the 18th. On the 17th at 10am, The Back Porch Seafood and Oyster House will be hosting the "Paddle at the Porch" stand up paddle board race. There are two recreational races that will be one and three miles long, and a six mile elite race. Food and drinks will be available and awards will be given after the races.
At HarborWalk Village, Destin's focal point for waterfront dining and entertainment, events continue to attract many visitors each week. Rock the Docks takes place every Saturday night from 7pm-9pm with live entertainment. Every Tuesday night throughout the summer, the Pardi Gras parade brings New Orleans flair to the Harbor. This free parade includes floats, beads, and the Village Brass Band playing live from 6pm-10pm. The 5th Annual "Flying High on the Harbor" takes place on August 24th and 25th with professional kite flyers and demonstrations. Visitors can bring their own kites and enjoy the sites from 10am-10pm each day. There will be stunt kite lessons, contests, and a Kites With Lights show that begins at sunset over Noriega Point. For Labor Day weekend festivities, there will be fireworks over the Harbor and live entertainment each night from Thursday to Sunday. Those visiting can enjoy performances by the Andy Velo Band and Danny Myrick. Overnight accommodations can be made in the Destin area at condo rentals nearby.
On August 14th, Chan's Wine World and Sweetwater will host "Fish Fried", a fundraiser for the Emerald Coast Waterkeeper. The event starts at 6pm and guests will enjoy beer tasting and a fried fish dinner. For wine enthusiasts, Wine World has wine tastings every Friday evening from 5pm-7pm. Cheese plates are available and discounts on cases of wine. There are two locations in Destin, one in the Commons and another in Grand Boulevard.