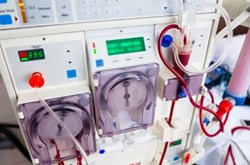 Fresenius failed to inform the Food and Drug Administration of dangers associated with Granuflo and NaturaLyte
(PRWEB) August 01, 2013
Dialysis injury lawsuits involving Granuflo and NaturaLyte are currently being investigated by the law firm McSweeney / Langevin. There are currently 181 separate lawsuits comprising the Multidistrict Litigation (MDL 2428) and the number is rising. In July of this year, the Honorable Judge Woodlock of the US Dist. Crt. of MA signed an order regarding plaintiffs' executive and steering committees of the Granuflo / NaturaLyte MDL.
Fresenius, the German based manufacturer of Granuflo and NaturaLyte, conducted an internal study of the safety of Granuflo and NaturaLyte. The internal study revealed an up to eight-fold increase in the risk of cardiopulmonary arrest and sudden cardiac death. This information was detailed in a November 4, 2011 memo sent only to to medical directors and physicians. This internal memo was first published by The New York Times on June 15, 2012. The internal memo warned a small number of doctors of the sharp increase of patients dying suddenly from cardiac arrest. The internal memo states "[t]his issue needs to be addressed urgently."
In attorney David Langevin's opinion, Fresenius did not address the issue "urgently." In fact, Fresenius failed to inform the Food and Drug Administration of dangers associated with Granuflo and NaturaLyte. According to the New York Times June 14, 2012 article "Dialysis Company's Failure to Warn of Product Risk Draws Inquiry," Fresenius only warned the public of the safety risks and dangers of Granuflo and NaturaLyte when an individual sent an anonymous copy of the internal memo to the FDA.
According to the New York Times, Steve Silverman, director of compliance for the FDA's medical device division, stated "[he] was troubled by the fact Fresenius on its own initiate didn't notify its entire customer base of its concerns."
On March 29, 2012, The FDA Issued a Class I recall of Granufo and NaturaLyte shortly after the anonymous tip. A Class I recall is the most serious recall due to the risk of serious injury and death.
According to the FDA's Class I Recall, side effects of Granuflo and NaturaLyte include cardiopulmonary arrest, heart problems, metabolic alkalosis, low blood pressure, sudden MI or heart attack, stroke and even death. These side effects are usually seen during, or shortly after, the dialysis treatment.
McSweeney / Langevin is offering free legal consultations to patients and families affected by Granuflo and NaturaLyte. Please visit our firm's site if you or a loved one has experienced cardiac arrest or sudden heart attack shortly after receiving dialysis with Granuflo or NaturaLyte. Feel free to contact us at 1-800-888-4425 for a free legal consultation.