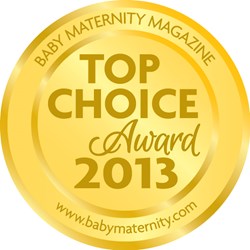 We are thrilled that our new products for the Baby and Maternity industry are so well received
Milford, CT (PRWEB) August 02, 2013
SCS Direct Inc., the company that develops and delivers the products customers want, is the recipient of awards from Baby Maternity for three of its newest products.
FlyeBaby
2013 Top Choice of the Year
FlyeBaby is a hammock-type seat that can be used on an airplane during the cruise portion of the flight as a comfortable and convenient place to put your baby. It can also attach to most dining room chairs to serve as a portable high chair.
Lullaby Light Cube
2013 Product of the Year
The Lullaby Light Cube is the perfect sleep companion for young infants, toddlers and small children. Compact in size, the Lullaby Light Cube can be used at home or on the go, easily fitting in any travel bag. Your little one will delight with the soothing colored stars that will adorn the room, and fall fast asleep listening to your choice of soft bedtime melodies or soothing heartbeats.
Sprout Cups
2013 Seal of Excellence
Sprout Cups are a baby food storage system making it easy to store, freeze and reheat baby food at home. Sprout Cups have measurements for easy portioning and can be easily marked so you know what's inside. These interlocking containers come in two ounce and four ounce sizes with interlocking lids and trays.
"We are thrilled that our new products for the Baby and Maternity industry are so well received," stated Howard Greenspan, Owner of SCS Direct. "Be on the lookout for more innovative, exceptional products in the coming year."
Baby Maternity Retailer is the newest trade magazine covering the baby and parenting aids industry. FlyeBaby, Lullaby Light Cube, Spout Cups and other 2013 Top Choice Award winners will be featured in the magazine's October 2013 edition.
About Us
SCS Direct was founded in 1998 to develop innovative products for consumers in the United States and Internationally. SCS employees focus on finding little-known products and ideas; continually tweaking and improving them until they are marketable. Current products include various toys, housewares, electronics, outdoor living and infant care items. SCS Direct is ranked #296 on the 2012 Inc. 500 List of America's Fastest Growing Companies. For more information about SCS Direct's unique line of products call 203.870.4867 or visit http://www.scsdirectinc.com.