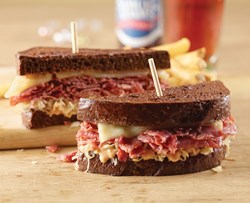 With the ease of delivery from Foodie Call, pool goers can be split nachos with friends, enjoy a salad or indulge in a Cookie Blitz without ever leaving their loungers. - Fox and Hound Owner, Scott Newcomb
Charlotte, N.C. (PRWEB) August 06, 2013
Foodie Call is partnering with Fox and Hound in the Northlake and Birkdale locations to throw end of the summer pool parties for hungry customers.
Finishing up the summer in early to mid-August, the restaurant food delivery service will be dropping by various community pools at the Huntersville and Northlake areas. Foodie Call and Fox and Hound staff will be playfully tossing out more than 250 multi-colored beach balls on the weekends, along with flyers and exclusive coupons for the classic American restaurant.
"It's a fun way to celebrate summer," Benny Fitzgerald, Foodie Call's Catering Manager said. "After you're finishing taking a dip in the pool under the summer sun, hop on a computer or call Foodie Call to order something delicious from Fox and Hound."
Foodie Call works with restaurants that do not offer in-house delivery services. Foodie Call offers the staffing, transportation, licenses, insurance – and more – to act as a delivery service for restaurants. As a result, customers can order a bevy of foods like classic American, Mediterranean, Mexican, Indian, Chinese – and more –be it for breakfast, lunch, afternoon snacks, dinner or happy hour.
"Wouldn't it be great to be sunbathing while someone delivers you food," Fox and Hound Owner, Scott Newcomb asked. "With the ease of delivery from Foodie Call, pool goers can be split nachos with friends, enjoy a steak or spinach salad or indulge in a Great Cookie Blitz without ever leaving their loungers."
For those seeking refreshment from the summer sun, visit Foodie Call's homepage, http://www.MakeAFoodieCall.com, click the green, "Order Online Now!" tab and then simply click on Fox and Hound or your favorite restaurant to begin an order.
And, of course, don't forget to order a creamy dish of homemade guacamole from Fox and Hound, flaky grilled salmon finished with a secret Cajun spice and drizzles of poblano sauce, or the famous French Dip piled high with roasted London broil.
Foodie Call also caters events of any size, from big top tents to boxed lunches. Any interested parties should contact the Catering Manager, Benny Fitzgerald, at (704) 245-6556 or can go online to begin placing their order.
The restaurant marketing firm and delivery service company is open seven days a week, Sunday through Thursday from 10:30 a.m. to 10 p.m. and Friday and Saturday from 10:30 a.m. to 10:30 p.m.
About Foodie Call, Inc.
Foodie Call is a multi-restaurant marketing and delivery service providing a delicious variety of Charlotte's best cuisine, beer, and wine to Charlotte metropolitan area residents, workers, and visitors. Foodie Call services Charlotte and the surrounding areas from Ballantyne to Lake Norman. The delivery company brings napkins, utensils, and drinks for a full complement to your meal. For special events, they can provide wine accompanied by gift boxes or items for themed events. For hours and menus, or to place an order, visit http://www.MakeAFoodieCall.com or call Benny, the catering manager, at 704-245-6575.
Contact:
Lindsay Yontz
Lindsay(at)MakeAFoodieCall(dot)com
308 E Worthington Ave.
Charlotte, NC 28203
Ph: 704-245-6575