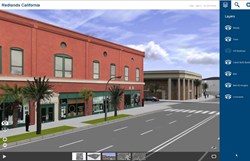 We want communities to be able to experience proposed development in three dimensions to give stakeholders both a sense of place and a vision of future growth.
Los Angeles, CA (PRWEB) August 01, 2013
CyberCity 3D, Inc.™ a leader in geospatial modeling and emerging urban design data, has started production of 3D urban content of the University of Texas at Austin campus and selected cities throughout the Central Texas region. This planning and visualization project is part of a $3.7 million Sustainable Communities Planning Grant funded by the U.S. Department of Housing and Urban Development (HUD) to assist the area in planning its future development.
The Capital Area Texas Sustainability (CATS) Consortium, a comprehensive group engaging public, private, academic and nonprofit stakeholders throughout the Austin-Round Rock-San Marcos region, is spearheading this initiative. The CATS Consortium strategies involve utilizing modeling and measurement tools--including CyberCity 3D generated models-- to assist stakeholders in planning; conducting demonstration projects to overcome obstacles in obtaining goals; and overseeing the region's future growth from exploration to execution.
"We are excited to be working with the CATS Consortium to generate GIS 3D buildings for this innovative program. 3D buildings are an essential part of the urban data "stack", and adding this information helps create new, effective design strategies," stated Kevin DeVito, CyberCity's CEO.
CyberCity 3D city models will help facilitate the CATS Consortium as it analyzes and visualizes the fiscal and spatial impact of housing, transportation systems, economic prosperity, concentrated and balanced growth, healthy community features, and environmental preservation and protection.
As part of this sustainability effort, the CATS Consortium is developing three-dimensional growth-plan visualizations for the region.
"We want communities to be able to experience proposed development in three dimensions to give stakeholders both a sense of place and a vision of future growth," said Dr. Paul Navrátil, visualization project lead and Research Associate at the Texas Advanced Computing Center. "These visualizations will enable planners to more effectively communicate improvements to target communities. We're excited about the new potentials these bring."
CityEngine®, Esri's urban design and visualization application, will generate the Consortium's proposed regional growth scenarios by providing visualization analysis that includes CyberCity 3D models, while providing a time-saving, automated workflow for those involved.
The three-pronged goal of the CAPS Consortium for Central Texas region communities involves adopting housing diversity that is accessible to transportation; incentivizing development in ways that decrease congestion and pollution; and sustaining the area's economic competitiveness by appealing to a talented workforce.
The CyberCity 3D building data, boosted by Esri CityEngine, will provide valuable 3D information—making it easier for stakeholders and the public to virtually 'see' future possibilities for the growth of Central Texas and make informed decisions on how to proceed with building a prosperous, sustainable tomorrow.