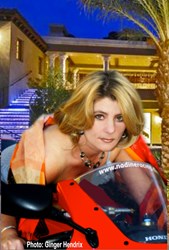 "Experience of a lifetime" was saying Greg Writer, marketing and crowd funding expert.
Irvine, CA (PRWEB) August 02, 2013
After a huge success last week-end at Auto Club Speedway, Fontana, CA, Nadine Lajoie, world renowned speaker and international sensation, who is originally from Montreal, is bringing her new concept at Autodrôme St-Eustache, combined with ASM, August 18th and 19th. At Fontana, she collaborates with Pro Racer #18 Geico/Honda Chris Ulrich, who did the tandem rides at 150 mph. John Ulrich, the chief editor of Roadracing World and David Pyles, the president of Fastrack Riders, were instrumental to the success of this event where Nadine, along with a panel of movie producers, experts, speakers, coaches and authors, were helping entrepreneurs with their business skills and mindset to grow their business.
Greg Writer, marketing and crowd funding expert stated, "It was an experience of a lifetime. Thanks to Nadine Lajoie and her "R.AC.I.N.G. To Success" event, I got to experience life at 150 mph on the back of a motorcycle with one of the best pro racers in the world. Incredible experience!"
The event was sold out and all participants had learned valuable lessons for their businesses, to achieve peak performance and high level of success never touched before. Douglas Vermeeren, movie producer of "The Opus", "The Gratitude Experiment", "Guerrilla Marketing", was a featured speaker and will also be there in Montreal.
Work-life balance, fun and passion are too often forgotten, stopping people to chase their dreams. This 2-day event is the ultimate experience that will transform and "IN-Power" TM business owners, team leaders, corporate executives and entrepreneurs to breakthrough their own limits. You can have the adrenaline of your life, become unstoppable and more focused, get more money, success and free time, with balance and passion, with an authentic leader. International award-winning entrepreneur and speaker, #1 best-selling author of "Win the Race of Life" and championship motorcycle racer who sings like an angel, Nadine Lajoie presents "R.A.C.I.N.G. to Success!" TM where she is planning a 10-city tour next year, hopefully combined with organizations like AMA, Nascar, Moto GP, World Superbike and Formula 1, all around the world. People from Japan, Australia, France, Spain and much more are already interested in Nadine's unique concept, where she combines entertainment and singing, recently singing the National Anthem at several racing events.
Millionaire and retired at the age of 41 from her financial business in Ile-Perrot, QC, Nadine has coached over 800 clients in their finances, business, real estate and personal empowerment since 1995. She is delivering inspirational team management and leadership programs worldwide for executives, businesses owners and non-profit organizations. Nadine raced at ASM and the Canadian Parts Canada Championship few years ago, and became the 2006 Expert 600 RACE Women's Champion in Ontario, Canada and finished 3rd place at Daytona Speedway against 75 men, 9th place overall championship in the WERA USA National.
For more information about this worldwide leadership program, for media interviews or speaking events, please visit http://www.nadineracing.com. Nadine will be available in Montreal between Aug 10 and Aug 21, 2013 for interviews.
Media Contact: Beverly Zeliger - Phone (949) 421-7562 – http://www.NadineRacing.com
Nadine Lajoie is the America's High Speed Success Trainer, international award-winning entrepreneur, speaker, champion motorcycle racer, #1 Best-Selling author, radio host and future TV Host and the founder of "R.A.C.I.N.G. to Success", the "World Premier Leadership Trainings" at the racetrack, helping people to become unstoppable in their business and life.
Was sold out in California! Don't wait!
Please register for Montreal or sign-up to be on our waiting list!
World Premier Leadership Training at the Racetrack - July 27-28, Fontana, CA AND Aug 18-19, Montreal, QC
Movie Producers, Speakers, Coaches and Experts will be there to help you have a breakthrough in business and life!
Only 20 spots left - Reserve your spot now at http://www.NadineRacing.com with the coupon code NADINEFREE