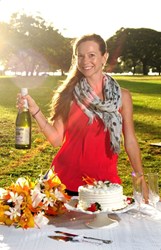 I am a hopeless romantic that loves to help plan the perfect Hawaiian wedding

Amanda
Honolulu, HI (PRWEB) August 01, 2013
Hawaiian Style Weddings is happy to present the promotion of Amanda Faustine from an independent wedding professional to the Lead Wedding coordinator for Hawaiian Style Weddings. Amanda has been with the company for 3 years and has proven herself to be a motivated and superior leader in the wedding industry. She has worked with a couple different wedding companies throughout the last few years and we are thrilled with the new filled position.
Amanda was born and raised on Maui. She has the knowledge and experience that only a local can bring which gives Hawaiian Style Wedding's clients a leg up. Amanda loves the wedding industry and calls herself a "hopeless romantic." She started her passion for the industry while being the assistant to a wedding planner. She learned first hand what it takes and is now pursuing the profession as an individual.
Although she is in the wedding industry now, she has bounced around in many different fields. She helped her father in his start up business, Maui Rippers, where she got to travel to Asia and Indonesia during product development. She also attended culinary school and worked with a variety of catering and serving companies. Although she enjoyed her time in the different industries she found the wedding business a better option. Amanda is currently a Nutrition Major at the University of Hawaii and is working on completing her Bachelors Degree.
As the Lead Coordinator of Hawaiian Style Weddings, Amanda will be able to offer the full benefits by providing weddings on all the islands while also providing full service. The team at Hawaiian Style Weddings has expertise in all island locations. Hawaiian Style Weddings has over 150 different wedding vendors on Maui, Oahu, Kauai, and the Big Island of Hawaii for these weddings.
Amanda Faustine is a trusted coworker that we know will surpass couples expectations on their special day. Although Jana will be missed, Hawaiian Style Weddings hopes everyone is as excited as they are to welcome Amanda in this new position.