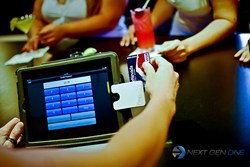 The new servers offer restaurants maximum speed and efficiency
Las Vegas, Nevada (PRWEB) August 05, 2013
Next Gen Dine cloud point of sale by Prelag Partners LLC has gone from running everything on one physical Linux server to a VMWare cluster of virtual machines to offer customers a whirlwind of speed on the mobile point of sale.
All Next Gen Dine customers are now live on the new server. The new cloud servers will provide restaurants with maximum speed and efficiency. The difference of speed is remarkably noticeable, which will reduce errors and order turnaround time.
DB2 by IBM is the most stable database in existence and will allow Next Gen Dine users to maintain flexibility and the capability to connect to anything anywhere.
Next Gen Dine has changed the host name from clolud.nextgendine.com to ngd.prel.ag. The old host name will redirect to the new host site so that existing customers will not have to change anything.
Next Gen Dine cloud-based point of sale is the future of restaurant dining. For more information about the product or to find out how your restaurant can take part of Next Gen Dine, contact Paul Roberts at 1-877-342-2218 or paul(at)nextgendine(dot)com.
About Next Gen Dine
Next Gen Dine is a cloud-based, mobile restaurant point of sale software designed for the iPad. Restaurant owners can now capitalize on the benefits of a full-featured POS system for a fraction of the cost of a traditional POS. Due to the mobility offered by the software, employees can take orders directly at the table, take credit card payments at the customer's side, and drastically improve restaurant operating efficiency. Orders placed are sent directly to the appropriate prep station, therefore decreasing order turnaround time. Next Gen Dine also offers restaurant owners customer loyalty, gift card, social media, and fine-grained marketing tools