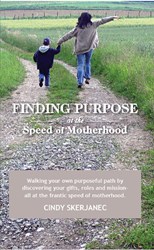 "Throughout my own years of going through the trials and tribulations of motherhood, I've discovered a way to live more purposefully, and I realized it was something I needed to share with others."
Denver, CO (PRWEB) August 01, 2013
Motherhood is a juggling act, and it's easy to lose sight of your purpose in life. A new book will help you find it. In Finding Purpose at the Speed of Motherhood, Colorado author Cindy Skerjanec takes busy moms on an introspective journey to discover their gifts, roles and mission – all at the frantic speed of motherhood. The book is now available on Amazon.com and perfect for summer reading and exploration.
"In the craziness of motherhood, while we're busy raising happy and loving children, growing our marriages, and building careers, somehow we lose our sense of purpose," explains Skerjanec. "Throughout my own years of going through the trials and tribulations of motherhood, I've discovered a way to live more purposefully, and I realized it was something I needed to share with others."
Today's mothers are "extreme multi-taskers", and it's easy to lose one's sense of self. This book provides thought-provoking questions that allow women to uncover their true purpose while discovering their own personal magnificence in the grand scheme of God's plan. It's perfect for book clubs and church groups who wish to work through their own self-excavation plan alongside a supportive group of women.
Finding Purpose at the Speed of Motherhood is available at Amazon.com.
About the Author
Cindy Skerjanec, mother of two, has written extensively on finding balance and purpose in life through her own experiences of raising a family, building her marketing company, and teaching yoga on the side. She lives in Brighton, Colo., and wrote Finding Purpose at the Speed of Motherhood to help other frenzied moms name and live their purpose in the midst of the demands of work and family life.
Finding Purpose at the Speed of Motherhood, by Cindy Skerjanec
Paperback; $15.95; 218 pages; 978-1-4609-9918-9