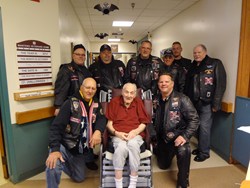 Our veterans have sacrificed so much for us, and we need to do our best to reach out to them.
Lisle, Illinois (PRWEB) August 01, 2013
Passages Hospice has received the designation of a 1-star partner in the We Honor Veterans initiative, a program by the National Hospice and Palliative Care Organization to address the growing hospice needs of our country's veterans.
Veterans make up more than 25% of those at the end of life, and they have unique needs. Many veterans saw very difficult things while serving or lost close friends. The Department of Veteran Affairs estimates that 10-30% of veterans have Post Traumatic Stress Disorder (PTSD), a mental health disorder that can cause emotional distress, sleep disturbances and dramatic changes in behavior.
As an added challenge, many of our country's oldest veterans served well before PTSD was diagnosed and commonly accepted. They may have dealt for years with painful memories and emotional trauma that was never diagnosed. The We Honor Veterans program helps veterans get the specialized end-of-life care they need, whether it's counseling for PTSD or help receiving their full military benefits.
"We are passionate about making hospice care available to everyone who needs it," said Passages Hospice Administrator Michael Gillman. "Our veterans have sacrificed so much for us, and we need to do our best to reach out to them."
Through the We Honor Veterans program, Passages Hospice will provide extensive training to its staff on veterans issues, and outreach to local communities. Passages Hospice is also a member of a We Honor Veterans collaborative team designed to bring the best hospice care to veterans.
"This is one small way we can give back to these men and women who have given so much to us," Gillman said.
Hospice organizations earn 'stars' as they progress through the program by completing activities, holding veteran events and community education. Passages Hospice expects to complete the We Honor Veterans program by spring of 2014.
For more information about the We Honor Veterans program, visit http://www.wehonorveterans.org.