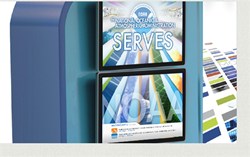 ... attendees continually refer to the video message while checking the conference schedule.
Jacksonville, FL (PRWEB) August 01, 2013
Advantage Design Group announces its creation and implementation of multiple monitor video production displays with interactive updatable conference schedule functionality. These make an impressive visual impact while offering the practicality of displaying session times for attendees. The configuration has been used by the National Oceanic and Atmospheric Administration (NOAA) at their events.
These video productions allow images to span over two or more monitors in a stacked format vertically and/or horizontally, creating a unique and eye-catching presence. In NOAA's case, functionality is also built-in to display the conference schedule. With Advantage Design Groups technology, the NOAA staff is able to update the schedules as needed so session information is always current. This means that attendees continually refer to the video message while checking the schedule.
As a result, NOAA gained great exposure in size and in scope, which told the story of all that "NOAA Serves." The format showcases NOAA's five main industries that they serve, while keeping "NOAA" as a prominent visual. The industries include: National Marine Fisheries (NMFS); National Ocean Service (NOS); National Environmental Satellite, Data and Information Services (NESDIS); Ocean and Atmospheric Research (OAR) and National Weather Service (NWS).
The Art of the Story
From conversations with NOAA staff, Advantage Design Group determined how to best tell the story of each industry served, cohesively, in a two minute loop to be viewed in a trade show environment. They used a combination of imagery, video clips, word art text, special effects, motion graphics and upbeat music to create the appeal it would take to get attention. Plus, they built-in an XML schedule to the core functionality so that sessions are visible at the bottom of the video screen at all times. Once the loop comes to the end of its 2-minute run, the schedule displays full-screen for a designated time before the video begins to re-play. At any time during the event, as sessions change, a NOAA staff member can update the schedule using an XML file format.
"It's not just about telling the story, or the technology in these cases. It's about both," said Sam Swingle, CEO of Advantage Design Group. "Our trade show video presentations help our clients get noticed at their events with interesting visuals and sound, as well as highly functional and clever use of technology. The impact is so great that the end-result is cost-effective for many companies, in many ways."
In today's competitive environment, businesses need to put their best marketing foot forward. This is especially true at trade show events where they can either get noticed or blend into the crowd. High-impact, high-tech video displays are the way to get attention, tell the story, make an impression, and start conversations that lead to customer relationships. Many companies are seeing this truth, understanding the ROI, and using dynamic video at events to begin prospect conversations. And that's where it all begins.
About Advantage Design Group
Advantage Design Group is a multi-media design and development firm based in Jacksonville, Florida with 15 years of experience in developing websites, videos, online training and orientations, interactive maps, tradeshow presentations, virtual tours, touch screens and mobile web apps for corporations and higher education institutions. Advantage Design Group is recognized as a top 10 advertising and marketing agency in the Jacksonville Business Journal's 2012-2013 Book of Lists. They have done work for organizations like NOAA, Bank of America, Detroit Tigers, Pratt and Whitney, New York University, African Wildlife Foundation, and Zurich Insurance.
For samples of our digital designs, visit AdvantageDesignGroup.com.
1896 Corporate Square Blvd • Jacksonville, FL • 800.657.1338 • info(at)advantagedesigngroup(dot)com