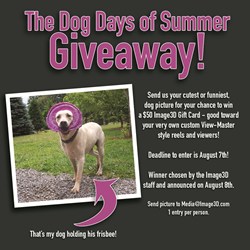 Portland, OR (PRWEB) August 01, 2013
Image3D, the leader in custom View-Master style reels and viewers, is hosting a giveaway. Two lucky winners will each be awarded a custom View-Master style reel and viewer set with their own pictures.
To enter the contest, Image3D asks that entrants send a fun or cute picture of their dog to commemorate the "Dog Days of Summer". Pictures can be sent via email, Twitter, or Facebook.
The last day to submit an entry is Wednesday, August 7th 2013. The winners will be announced Thursday August 8th.
The winning entries will each be awarded a gift card to use on the Image3D Celebrate website. On Image3D's website, customers can build their very own custom View-Master style reels, using the online Build-A-Reel program.
For more details about the giveaway, view this link: http://bit.ly/I3DsummerWIN.
About Image3D:
Established in 1997, by world renowned 3D photographer Rich Dubnow, Image3D provides custom View-Master style reels and viewers for everyone from blushing brides to corporate titans. Rich has more than two decades of experience as the lead photographer at View-Master and has produced work for creative visionaries like Jim Henson and Steven Spielberg. Today, Image3D operates in a state-of-the-art facility in the picturesque Pacific Northwest, creating unique and awe inspiring 3D experiences for all. To learn more about Image3D, visit http://www.Image3D.com.