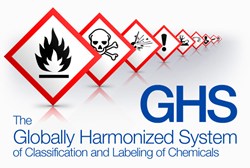 St. Louis, MO (PRWEB) August 01, 2013
Companies dealing with job safety, on-site safety, or safety in the workplace who do not meet the Global Harmonized System (GHS) standard by December 1, 2013 will no longer be OSHA compliant and could be subjected to penalties and citations.
"Smaller companies are not familiar with this new standard, the training requirements around it, or the deadline that is quickly approaching," said, Safety Partners Ltd. Education and Operations Coordinator, Kelly Davis.
The new standard applies to anyone working in the area of site safety. This includes companies of all sizes as well as outside contractors and subcontractors who will be working on the same site as the company. Employers are required to ensure that all of these people have the proper training.
Safety Partners, Ltd. is offering two classes that will fulfill the requirements that are needed to meet OSHA's new GHS standard. The first course offered is for workers, contractors, and employees without previous knowledge in Hazard Communication. This course will introduce the general HazCom requirements under OSHA regulations and lasts four hours.
The second course offered by Safety Partners is for anyone who had previous knowledge of HazCom regulations prior to the GHS implementation. This training session will explain the changes that will come with the implementation of the GHS standard. This course will be a full day of training that will last eight hours.
OHSA announced the final GHS ruling in the "Federal Register" in March of 2012. The announcement of the rule is a single sentence; "Employers shall train employees regarding the new label elements and safety data sheets format by December 1, 2013."
For more information on the GHS certification class visit our site.
###
Founded in 1992 by William St. Peters, Safety Partners, Ltd. is the premier source for Safety Support and Environmental Consultants. Safety Partners, Ltd. provides a variety of safety and environmental training, rent and sell supplies and equipment, and consultation for businesses of all shapes and sizes.