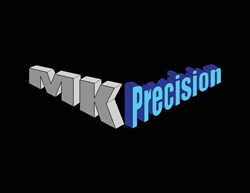 When I was 20 years old, I was diagnosed with severe scoliosis that needed spine fusion.
WARMINSTER, PA (PRWEB) August 01, 2013
After manufacturing CNC-machined equipment for various industries, MK Precision, a leading medical device contract manufacturer, discovered its talent for making flawless medical equipment with Swiss lathes, 5-axis mills and wire EDMs. Recently, the company released a detailed video about its in-house operations and dedication to excellence as CNC specialists.
The MK Precision video features all levels of employees within the company providing insight into day-to-day operations and their passion for excellence. In addition to learning about the cleanliness of the factory – referred to as a "laboratory" by one engineer – viewers gain access to facts about the company's history and its groundbreaking lean management methodologies. Viewers can see the Swiss-made machines in action sculpting custom-designed medical pieces and can experience how human skill, coupled with state-of-the-art production equipment, manifests precision, accuracy and quality.
At the center of the video is President Mike Klesh and his dedication to providing truly exceptional medical products under the MK Precision name. In the video, his personal anecdotes suggest his loyalty to manufacturing equipment of superior quality for the medical field. From his story about moving operations from a farmland to state-of-the-art manufacturing facility to his personal experience with spinal surgery and past need for the same equipment he manufactures today, it's evident that Klesh's dedication is original and sincere.
"Not only am I the president, but I'm also the patient," Klesh says in the video. "When I was 20 years old, I was diagnosed with severe scoliosis that needed spine fusion." Decades later, Klesh and his team have become medical equipment manufacturers producing precision medical equipment to help patients fight similar conditions that Klesh fought in his earlier years.
In the video, viewers hear from everyone within the company from engineers, quality managers, marketing managers and CEOs. For those involved in the purchase, supply, and implementation of the latest medical equipment, it's important to watch the MK Precision video.
For sales inquiries or more information about MK Precision, please contact Ron Bates, Director of Marketing, by email (rbates(at)mkprecision(dot)com) or phone (215-675-4590).
About MK Precision:
MK Precision is a leading medical device contract manufacturer that is ISO 13485:2003 and ISO 9001:2008 certified as well as FDA Registered. The full-service company offers five-axis milling, multiaxis Swiss screw, EDM, titanium anodize, laser marking, assembly, passivation, chrome plating, burr-free parts, exotic metals, PEEK, and contaminate-free machining capabilities. Our dedicated and enthusiastic team has the level of expertise and professionalism to provide unparalleled quality and service to our clients.