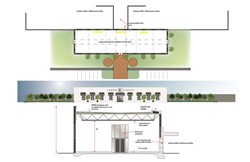 James Dedes stated, "We are delighted to partner with the City of Pelham on a project to retain Summer Classics, a world class home furnishings company."
Pelham, AL (PRWEB) August 02, 2013
Summer Classics, Inc., one of the leading manufacturers of high-quality casual and outdoor furniture in the United States, closed on the purchase of the Moore-Handley Building, one of the largest buildings in the Birmingham metro area. Summer Classics currently operates out of four buildings in Montevallo and Pelham. Three buildings are company owned and have square footages of 215,000, 100,000 & 46,000, which combined with Moore Handley's 439,000 give Summer Classics more than 800,000 square feet in Birmingham. After the Pelham City Council approved and acquired the 32 acres consisting of the former Moore-Handley site and an adjacent parcel, the city sold the building and 18.45 acres to Summer Classics, who will receive some support from the city of Pelham and the Shelby County Economic Development Authority for improvements including showroom construction, and renovations to the building and grounds.
Present at the closing was:
Mayor Gary Waters
Rick Hayes, City Council President
Kane Burnett, Bradley, Arant, Boult & Cummings
Bill Justice, Wallace, Ellis, Fowler, Head & Justice
Marsha Yates, city clerk, Pelham City Hall
James Dedes, Executive Director, Shelby County Economic Development Authority (SCEIDA)
David Nolen, M&F Bank, Treasurer SCEIDA
Tom Seale, Finance Director, City of Pelham
Mr. and Mrs. William Bew White III
Russell Cunningham, Red Mountain Law Firm
Rick Hayes commented, "This has been a very complex process that we have all had to work through together. We are looking forward to the opportunities that this will bring. It is an exciting day for the City of Pelham and Summer Classics."
Mayor Waters said, "The genesis of this project began with the last administration, and they need to be commended for their vision. This shows the continuity between the administrations, and I hope to congratulate Mayor Murphy at the ribbon cutting."
James Dedes stated, "We are delighted to partner with the City of Pelham on a project to retain Summer Classics, a world class home furnishings company."
Summer Classics will move 168 employees to the new location and expects to increase employment. Summer Classics is experiencing sales growth of over 50% for this month as compared to last year, and over 20% annually in comparison to 2012.
"Consolidating our operations will dramatically improve our efficiency," states Bill Kelner, vice president of operations.
"We have big plans to beautify the grounds and make the property exude the high-end appeal of the Summer Classics brand," said Bew White, owner of Summer Classics.
Summer Classics, Inc. owns and operates:

Summer Classics, a wholesale outdoor furniture company with over 300 retailers,
Gabby, a company that wholesales unique transitional furniture and décor to the design and retail trade,
Parker James, a private label outdoor furniture company for large retailers,
Summer Classics Contract, a company catering to the hospitality and contract industry,
Summer Classics Home, a chain of 10 outdoor furniture stores across the U.S.
Summer Classics is a premier innovator, manufacturer, and retailer of fine outdoor furniture in the U.S. For over a quarter century, the family-owned company has aimed to delight its customers by passionately designing patio furniture from the belief that timeless designs can and will be embraced for years. Life's best moments. Furnished.™