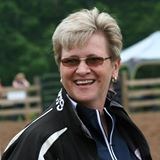 Willoughby, OH (PRWEB) August 01, 2013
Eileen "Bud" Roberts joins Andrews Osborne Academy (AOA) as the Equestrian Center Director. Bud comes to AOA with vast experience as a horsewoman, businesswoman and academician. She successfully ran her own business for 14 years before joining Lake Erie College, where she spent nearly 15 years as an adjunct professor and later as an assistant professor. During that time she coached the IHSA Team, ran their Winter Series horse shows and the Prix de Villes of North America and coached the Show Jumping team to their first Prix de Villes win in 17 years. Later she left the area and spent 2 years with the University of Findlay as a Hunter Jumper instructor and Assistant Coach for the Intercollegiate Horse Show Association team. In two years they qualified 2 individuals the first year and qualified the TEAM in the second year. Bud is very excited to be back in Northeast Ohio and feels the position at AOA is her dream job; "It brings all of my experiences together and I hope to bring the AOA Equestrian Center to life with a dynamic and experienced team." Bud believes in strong basics, good horsemanship and enjoying what you do. Her philosophy is "It is better to wear out than to rust out," and she lives by that philosophy daily.
Redean Sheppard has taken on the role of Facility and Lesson Coordinator. Redean has over 30 years of experience working in all aspects of the horse industry. She has coached beginners to advanced riders with a focus on equitation and creating confident partnerships between horse and rider. Redean's students have been awarded top ribbons in Hunter Jumper and Equitation divisions at prestigious shows including Upperville, KY, the spring and summer series held at Kentucky Horse Park, Biltmore, Chagrin Valley Hunter Jumper Classic and Gulf Port, Mississippi. Her students have also qualified and placed in the top indoor horse shows including Capital Challenge, Upper Marlboro, MD and the Pennsylvania National Horse Show in Harrisburg, PA. She has coached the University of Pittsburgh Equestrian Team and helped start the program at Duquesne University. In 2013, Redean developed the first IEA team for Maypine Farm and helped them qualify for the IEA National finals and win the national championship for the Middle School team.
We are pleased to add Meredith Taylor to our Equestrian staff as Head Instructor and Trainer. As a Junior Rider she won the 1995 Medal Finals, was Reserve Champion in the ASPCA Maclay finals, Reserve Champion in the WIHS Equitation Finals and Reserve Champion in the USET East Coast Finals. Meredith placed first or second in three Equitation finals on 3 different horses that she had not ridden until days before. During her riding career she was second in the USET Talent Search and honored with "The Chronicle of the Horse Hunter Horseman of the Year". Since her Junior career, Meredith has placed in 75 Grand Prixes on both the National and International levels as well as top hunter honors. Her students have placed in USEF Pony Finals, and have National and Regional Hunter and Jumper wins.
Andrews Osborne Academy (AOA) is an independent, coeducational, college preparatory day (grades Pre-Kindergarten through 12th) and boarding (grades 7-12) school near Cleveland, on a 300 acre campus located in Willoughby, Ohio. Our Academy offers elementary, middle and secondary education to committed students in a multicultural setting. Enrollment opportunities for the 2013-14 school year are available. Contact the Office of Admission to arrange a tour at 440-942-3600 or visit our website at http://www.andrewsosborne.org.
Media contact:
Vicki LeVan
Director of Marketing and Communications
440-942-3600